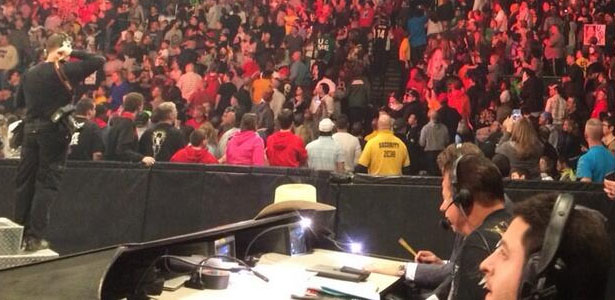 A neck injury and time off may be the last thing professional wrestling fans wanted to hear WWE World Heavyweight Champion Daniel Bryan mention on RAW. Regardless, the bearded "YES" man was forced to fill every listening ear with this disappointing news. What this means for the future of the title is anyone's guess.
WWE always leaves its viewers with a number of questions, here are 10 big ones! You can answer one, two, or all of them in the comments below, on Twitter @PWMania and @mrjoewalker #10BigQuestions, and Facebook.
#1) If Daniel Bryan is forced to vacate the title due to injury, who do you think should be crowned in his place?
#2) How do you expect the John Cena/Bray Wyatt feud to end?
#3) Was Sheamus the right choice for the United States Championship?
#4) Does Stephanie need Triple H by her side to be an effective authority-figure heel?
#5) What is NXT missing?
#6) Should WWE re-commit to brand extension, and if they do would a RAW VS Smackdown rivalry be necessary to legitimize it?
#7) In the March 17 edition of 10 Big Questions we mentioned a possible Evolution reunion (and were right!) Which faction should WWE revive next: nWo, Natural Born Thrillers, or Nexus?
#8) Do you think it would be a good idea or bad idea for WWE to sign Alex Shelley and Chris Sabin, then bring them in as The Motor City Machine Guns?
#9) What do you enjoy most on WWE Network?
#10) If you were Kofi Kingston, how you would reinvent your character?
What do you think? Comment below with your thoughts, opinions, feedback and anything else that was raised.