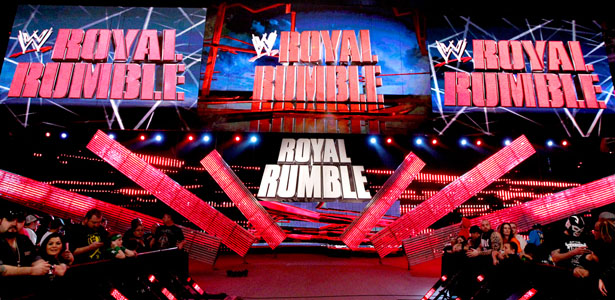 As a wrestling fan on PWMania.com, you may have noticed Sunday is the 2014 Royal Rumble. Since 1988, WWE has been putting on this January extravaganza. With the top two titles being unified, this Royal Rumble removes all doubt as to which champion the winner will challenge at Wrestlemania. Aside from 2013, it has secretly been the World Heavyweight Title Rumble. WWE now gets to go back to its roots with booking the winner as the #1 contender for the TOP championship.  Luckily for us the fans, a lot of guys matter right now. There are top guys (CM Punk, Batista, Daniel Bryan), and superstars on the rise (Big E Langston, Roman Reigns, Luke Harper) all looking to launch higher.  With CM Punk entering at #1, Bryan to pull double duty (Don't take the bait internet), and the secrets WWE has planned, this will be one of the best Rumbles in recent memory.
Now what must happen? The undercard this year is loaded. Between Brock Lesnar showing up to do battle with The Big Show, Daniel Bryan finally getting to run it with Bray Wyatt, and The WWE World Heavyweight Championship being decided in a No DQ match between John Cena and Randy Orton, we could be looking at a PPV of the year contender. With that many interesting matches, WWE could surely drop the ball and disappoint. So here are 5 things that must happen to ensure the 2014 Royal Rumble lives up to its immense potential.
Before we start, I am Rich Latta (@dangerrich32), a new writer on PWMania, I run a podcast called @OneNationRadio. More info is on Twitter.. All comments are welcome, I will reply. Please come in peace. Let's get it!
5. Brock Lesnar Must Destroy The Big Show
Brock Lesnar and The Big Show are locking up in a rematch of their 2003 Royal Rumble contest. Show of hands for how many people were caught off guard with this booking? Yup, that's everyone. Okay I will put this lightly; Brock Lesnar must DESTROY The Big Show. WWE has poorly handled Show ever since he knocked out Dusty Rhodes, and showed up in the big rig to hijack Daniel Bryan's YES chant. Explain how one goes from suing for a WWE title shot, to losing the championship match, to a random mid-card team with Rey Mysterio, to dressing as the new years baby in a damn DIAPER, to showing up with a hoodie on to square off with what seems to be the most dangerous guy in WWE? My head hurts.
Lesnar cannot have his credibility marginalized by WWE's handling of Big Show. This Sunday will mark Brock's 6th match since he returned from his self-imposed exile, and if it's not handled correctly the novelty of Brock Lesnar, MMA Star; may continue to wane. We don't need an arm bar; Brock must lift up Big Show on his massive shoulders and F-5 him hard enough so it reverberates throughout the wrestling world.
4. Cracks In The Armor : A Team Must Fracture
In 1994, Owen Hart turned on his brother Bret to begin God's gift to family rivalries in Wrestling. Where did it happen? That's right, The Royal Rumble. Ever since the concept of the Royal Rumble was presented to the public, we've heard that it was every man for himself. Countless teams have faced off only to move on like nothing ever happened, and others used this forum to launch into full scale war. For the first time in a while WWE has two teams prime for break-ups in, The Shield and CodeDust. (I'm not calling them The Brotherhood)
Roman Reigns, Seth Rollins, and Dean Ambrose are all destined for stardom. WWE has masterfully handled this trio from day one and I expect it to continue all the way to their dissolution. Each man's own personal ambition must be the vehicle used to get them to Wrestlemania. None of them will win on Sunday; their own implosion will be their undoing. As for CodeDust, who are defending the tag team titles against The Old Age Outlaws, their situation looks to be a throwback to the Bret vs Owen feud. Cody Rhodes has been restored thanks to his big brother Goldust, who is a better wrestler now than he was in the 1990's somehow. WWE must find a way to make Cody jealous of Goldust, to facilitate a challenge for Goldust's career at Wrestlemania. Make Dusty the ref and a classic will unfold.
3. John Cena and Randy Orton Must Redeem Themselves
Last Month at TLC, Randy Orton defeated John Cena as clean as one could in a match with no rules. Personally I enjoyed it, however it seems most fans seemed to be let down. What needs to happen is, a definitive winner must be crowned to wrap up this chapter in their long running rivalry. With no rules a variety of things can happen. How does this match play into the Royal Rumble? What about Elimination Chamber? Brock Lesnar is promising to take the belt off of either man, and could play a role in this match.
John Cena and Randy Orton are fighting for the championship of each other at this point. Somewhere down the line they must have their Wrestlemania 19 style Rock vs Austin match. WWE hasn't built this match as well as they could have, so it will be up to these two men to take matters into their own hands.
2. CM Punk Must Get Defeated By The Authority
I don't want to see it happen either, but for the story WWE is telling, CM Punk must be denied his long overdue Royal Rumble victory.  The premise for the Royal Rumble is to crown the challenger for the WWE World Heavyweight Championship at Wrestlemania. CM Punk has bigger fish to fry than that. He is in a rivalry with The Authority that is leading him to one man… Triple H.
CM Punk is the #1 entrant in the Royal Rumble, which appears to be a death sentence for the uninformed. Not to worry, Punk will last until the end where HHH or his team of henchmen will make their presence felt. CM Punk will once again be able to recapture the edge that launched him into stardom with a familiar foe in HHH. As much as Daniel Bryan has a beef with HHH, he isn't equipped to run Hunter down verbally the way CM Punk can. If Punk isn't wrestling for a title, a showdown with The Game is the next best thing.
Unless ya know Ol' HBShizzle wants to show up at Wrestlemania 30.
1. Daniel Bryan Must Pull Double Duty
Daniel Bryan must pull double duty and participate in the Royal Rumble. There have been reports saying he would not be a participant in the rumble going around, but it is all a swerve to get fans to lose it when he enters the match. Remember last year when Carlito and Shelton Benjamin were "confirmed"? Same applies here.  Bryan must defeat Bray Wyatt early in the night, then come in somewhere in the twenties to clean house. I'm sure Luke Harper and Erick Rowan will be after Bryan very hard, but Bryan will rise above the Wyatt family and eliminate them both.
Now here is where it gets tricky. Batista will be standing in Bryan's way.  So it comes down to however WWE wants to play this. Do they reward the most organic face since Stone Cold Steve Austin, who is by far the most over performer in the company? Or do they have Batista, fresh from 4 years off, take the crown?
Daniel Bryan must win the Royal Rumble, or nothing they have done with him will have made any sense.
So, there are my 5 things that must happen this year at The Royal Rumble. Post your thoughts, opinions, feedback and comments below. If you would like to interact with me during the event, drop me a tweet @DangerRich32 or @OneNationRadio. Check out the podcast for some good wrestling talk on the go!