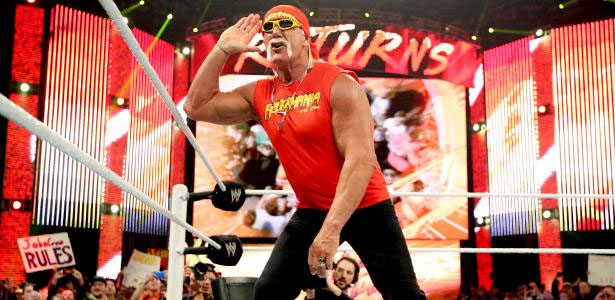 Professional wrestling icon Hulk Hogan finds ways to remain relevant.
WWE announcing his return to the company as host of WrestleMania XXX is sure to thrust "The Immortal" Hall of Fame legend back to the forefront of popular culture. Many would agree this was the right move for both.
On the other hand, The Hulkster's involvement with Total Nonstop Action was highly criticized. Commercially, it was good a move for TNA. Hogan's a excellent talker who can masterfully hold fan attention, and he did generate more interest for TNA with new audiences.
Undeniably, Hogan did the same for World Championship Wrestling. Accusing him of killing WCW is a bit off base. The Atlanta-based company had problems well before and after Hogan. The same can be said about TNA.
The 12-time World Champion was a major acquisition for TNA, the company moving their flagship show Impact! to Monday nights was not, as was their obsession to overtake WWE in ratings and appeal. This, among other much talked about decisions – eliminating their six-sided ring among them, did not totally tarnish Hogan's commercial appeal.
Naturally the Florida native declined athletically, yet creatively a lot can still be done with his character. Hulkamania can, and likely will, still run wild.
With WWE's Performance Center and NXT, Hogan could teach some of the younger guys how to conduct compelling, story-driven matches. They don't all have to be high spots and fast paced.
And believe it or not, Hogan still has one more major title run in him. Not as the title holder, of course. The Hulkster could be effective paired with another Superstar as their adviser, similar to what Harley Race was to Lex Lugar as champion.
Hogan returning to RAW on USA Network as host of WrestleMania XXX will likely land him right in the middle of the WWE World Heavyweight title picture. On screen interactions with him, the current champion, and all contenders should serve as a boost for all parties. His history with Orton is well-documented. Both fans and analysts alike have highly anticipated him facing off with John Cena.
Should a match featuring Hulk Hogan as a competitor be expected? No.
Can Hogan still tell a compelling story using scripted violence? Yes. And he doesn't have to be in the ring to do it.
Did fans get sick of Hogan? Of course they did.
Did they get sick of The Rock, Flair, Triple H, Jordan, Larry Bird, and, now, Lebron James and Tom Brady? Yes. Because no matter what you're watching, especially in competitive programs, you'll eventually want to see some new faces prevail.
Quiet possibly, Hogan is returning to give one of the new Superstars an immortal assist on The Grandest Stage of Them All. Let's not be too concerned with how Hulk Hogan's return to WWE will negatively impact the current roster of Superstars. It's best to look at the bight side.
Did Hogan hold guys back while in WCW and WWE? It's a debatable subject, one that can be posed of any dominant figure. Count how many NBA greats saw their careers end without winning championship during the "Jordan Era" – the time period Michael Jordan played in his prime. At the same time, acknowledge all the great players who gained attention simply from a heightened viewing audience Jordan helped create.
Hogan did much the same in WWE and WCW for both their Superstars and advertisers. Associates benefited from his presence. Hogan may not be the "Jordan" of pro wrestling as an in-ring performer – the legendary Bobby "The Brain" Heenan famously said, "My Grandmother could do a better leg drop than Hogan!" – on the sales books he was a healthy cash cow. Hogan, during several time periods, drew huge ratings too. No one was more attractive to viewers.
Another frequent description of Hogan, especially in recent years, is he only cares about money. His highly publicized spit from his wife Linda is considered an influence of his supposed lust for finances. Ending a marriage can be difficult as well as costly. Only a fool would think it didn't cost Hogan. Sure he needs money, one reason though would be to support a lifestyle he's grown accustomed to. Why knock him for going after a paycheck?
This return to WWE was in major part a "best for business" move, which was no doubt preceded by a business plan – Hogan's and WWE's.
To fully understand Hogan's current WWE comeback, one should first understand where he stands in the business of professional wrestling as a proven marketable character. Used correctly his signing works out best for everyone, not just for his bank account and need for attention.
WWE could easily add Hogan to one of their commentary teams to prolong their working relationship, simultaneously boosting commercial appeal and ratings. Actually, Hulkster as an analyst could be a profitable move with any organization he decided to join.
Hogan didn't have to return to wrestling at all. He could have become a columnist for ESPN, UFC, or he could have followed Jim Ross' footsteps to Fox Sports. Away from sports entirely, Hogan could have become a character on a primetime comedy or drama. But wrestling is what he loves. That's obvious.
Yes, there have been pitfalls in Hulk Hogan's career. Not all the days were going to be sunny. But Hogan being around has created more shine than cloud cover, and he and WWE both know everyone can still enjoy basking in his glow.
What do you think? Comment below with your thoughts, opinions, feedback and anything else that was raised.