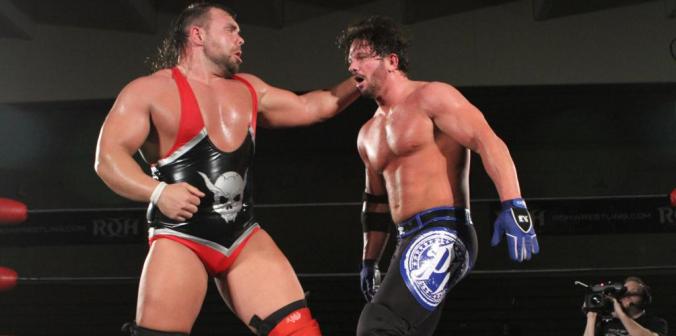 – Ring of Honor and New Japan Pro-Wrestling star AJ Styles joined John Pollock of Live Audio Wrestling last night for a 12 minute interview touching on subjects such as his most recent debut for NJPW at their Invasion Attack iPPV, his IWGP Heavyweight Championship match against Okada this coming Saturday in Japan on their Dontaku iPPV, how Ring of Honor has changed from the early days to now, whether he will be at ROH's first live PPV Best In The World 2014, and how some independent shows he is featured on are out drawing TNA in the same markets.
Here are some excerpts from the interview.
On his busy schedule: Absolutely man, I am super busy, it's actually ridiculous. I'd say I'm busier now than I was when I was working for TNA, but that's a good thing y'know, being on the road and experiencing so many different characters in wrestling and all different types and y'know I've always loved wrestling on the independents and its been great and to see all the different guys progressing in wrestling and stuff like that so it's fun man.
Thoughts on Kazuchika Okada: Well, to be honest, when I first saw Okada in TNA I knew he had the ability to be a great wrestler, he had the athletic ability to be a great wrestler and it was no surprise to me to see him do so well in New Japan, ehm… for him to do it so quickly though was a little bit surprising but it just goes to show how much talent that he actually has. And for me and him to be wrestling each other for the IWGP title in New Japan, it's a dream come true for me, to be honest with you, I've watched New Japan ever since I got into wrestling.
Whether he'll be able to make ROH Best In The World: Ehm… it doesn't look good, ehm, y'know I would hate to be scheduled for a match and then a flight be delayed and next thing you know I'm not making it, that's I'll assume, I'm over in Japan [the day before Best In The World] and it's a long flight and I want to be in tip top shape when I wrestle for New Japan or Ring of Honor.
His contract status: I haven't officially signed a contract with Ring of Honor, but I'm a Ring of Honor guy. I'm a New Japan guy. Those are the two guys that I'm going to take care of, the two companies that I'm dedicating my wrestling to right now. If there is time in between I'd love to do the independents but Ring of Honor and New Japan took a chance on me and I'm going to make sure they get first priority because I'm their guy and they're my promotions.
You can listen to the full interview by clicking here.