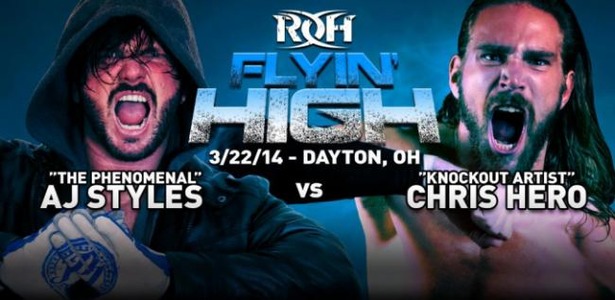 – Ring of Honor have announced that on March 22, when ROH comes to Dayton, Ohio, the event will be called Flyin' High and will feature a match many ROH fans have been calling for, AJ Styles vs. Chris Hero, and in the official announcement they stated that the winner will be a serious candidate for an ROH World Championship match going forth, and if Chris Hero can win the ROH World title on March 8 at Raising the Bar Night Two in Chicago, then this match will be made a title match.
– Ring of Honor and New Japan Pro Wrestling have issued the following press release on their crossover shows which will take place in Toronto, Ontario, Canada on May 10 and Manhattan, New York, on May 17:
RING OF HONOR® AND NEW JAPAN PRO-WRESTLING® TO PRESENT 2 SUPER SHOWS THIS MAY IN NORTH AMERICA

NEW YORK AND TORONTO TO HOST EVENTS

Ring of Honor Wrestling® ("ROH") announces a partnership with New Japan Pro-Wrestling® to present two must-see super shows for pro wrestling fans.

Ring of Honor Chief Operating Officer Joe Koff revealed a pact with Naoki Sugabayashi, president of New Japan Pro-Wrestling, during the first-ever ROH #HonorCon, a free admission fan expo in Philadelphia.

As detailed during the special announcement, ROH and New Japan Pro-Wrestling will present two super shows in May:

GLOBAL WARS: May 10th in Toronto at the Ted Reeve Arena (buy tickets)

WAR OF THE WORLDS: May 17th in New York City at the Hammerstein Ballroom (buy tickets)

Mr. Koff said: "We're very excited to announce this unique partnership to our great fans. As we experience unprecedented momentum in 2014 and demand for ROH events has increased, we've responded by planning these huge two shows.

"New Japan Pro-Wrestling is a fantastic partner with exceptional wrestlers. We look forward to giving fans a once in a lifetime experience with two stacked cards showcasing the best wrestlers in the world."

To watch Saturday's special announcement revealing the partnership in its entirety, sign up for the ROH Ringside Membership where the exclusive footage will be available later this week. Visit http://www.rohwrestling.com/membership to start your ROH Ringside Membership today.

Follow ROH on Twitter: @RingofHonor
Like ROH on Facebook: FB.com/RingofHonor
Watch and learn about ROH: www.ROHWrestling.com

Learn more about New Japan Pro-Wrestling: http://www.njpw.co.jp/english/

Ring of Honor is fully owned by Sinclair Broadcast Group, Inc. Sinclair Broadcast Group, Inc. is the largest and one of the most diversified television station operators in the country. The company regularly uses its website as a key source of Company information which can be accessed at www.sbgi.net. For more information related to Ring of Honor, please visit rohwrestling.com.