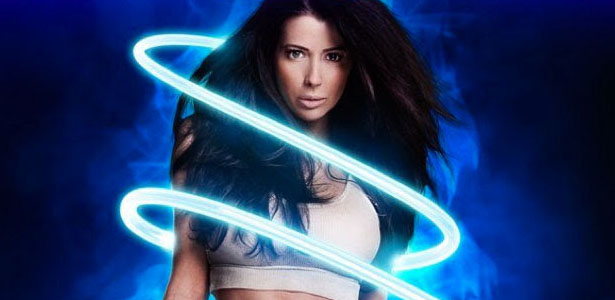 Amy Weber's management sent PWMania.com the following:
Every so often the world is privy to a select collective of individuals; who through their looks, talent, and personalities, become some of the most captivating people in the world. These amazing individuals manage to intrigue, and captivate the masses in only a manner that they are innately equipped to do.
Former WWE Diva AMY WEBER is going to "SmackDown" the jaws of pop fans with her new "Raw" single Dance of Life featuring SEAN KINGSTON. This talented diva from Los Angeles, California has collaborated with Jamaican singer and rapper SEAN KINGSTON to cook up something special for her fans. AMY WEBER recently released the single, "Let it Rain", which appeared on the US Billboard charts for over a month. The single also went viral internationally, rising to number 6 on the UK singles chart. The music video for "Let it Rain" also received over 370 thousand views on YouTube alone.
But, Amy Weber isn't the typical success story that we so often read about. Amy's journey has undoubtedly been one of the most misinterpreted and misunderstood, as people have often seen her as a swimsuit model turned actress and that couldn't be further from the truth. Amy is an amazing individual by all accounts. After suffering through an abusive childhood that left her with a debilitating fear, Amy mustered up the courage to move to Hollywood with one goal in mind; and that was to be successful. Even flying solo,Amy somehow managed to land a coveted position onto the fast track in a very difficult business.
Soon after settling into Hollywood, Amy found success as an actress, model, host, writer and a producer. This quickly caught the attention of Hollywood's elite, and the rest is history. Anyone who spends just a few minutes with Amy recognizes the magic she holds within. Not being one to allow the spirit of defeat to take root with her in any capacity, Amy didn't let a cancer diagnosis derail her from all that she had set out to accomplish. Her drive and passion to pursue her dreams in life kept her going. Amy has always had a secret passion for music; it was a place of solace for her; something that she felt saved her and gave her the strength to not only survive the battle scars from her abusive childhood that sometimes felt like fresh wounds, but to also tackle the torturous treatments that ultimately saved her from cancer.
Amy's newest single "Dance of Life" featuring Sean Kingston is a fun and energetic track that makes you feel good the very moment it comes on. Dance of Life is just that, it gives such a great energy that it gives life in so many ways. Dance of Life will undeniably be dancing its way up the Top 40 charts and into the lives of millions of people all around the world.
The single Dance of Life is going to revive the spirits and lives of many people with its harmonic and trance style beats along with its optimistic, cheerful and upbeat tempos. Along with the song, the music video reveals how the song can intensify a great night out with friends or loved ones. The music video reveals that the Dance of Life is for people that appreciate life, love life and grasp the important fact that life is a precious thing. The single emphasizes that not even one second should be wasted not enjoying the fact that you are alive. Therefore, you are not dancing because of the music, but because life is short and every second should be treasured. AMY WEBER may not be a WWE Diva anymore, but she has proven to not only be aggressive in the ring, but also in the recording booth. Check out her single Dance of Life now.
"Music is my life and therefore I put my heart and soul into it, my legacy is to inspire, uplift, and create feel-good moments that people can revert to whenever they need a good pick me up"
Music Video Just Released.
Follow Amy Weber: AmyWeber.com | Twitter.com/TheRealAmyWeber | http://instagram.com/realamyweber | https://www.facebook.com/amyweberfanclub