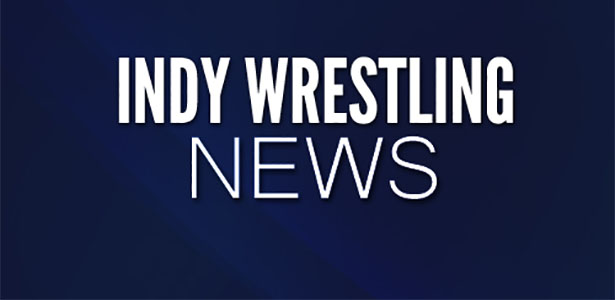 Michigan Indy Wrestling fans coming up on February 9th, 2014 Blue Water Championship Wrestling in conjunction with Xtreme Bombshells of Wrestling presents "SLAM JAM 2014". The event will feature legendary superstars such as Buff Bagwell, Maple Leaf Muscle Petey Williams, The Patriot and The Franchise Shane Douglas. Blue Water Championship Wrestling will be represented by its World Champion Xavier Justice, Too Tough Tommy Titus and the tag team of Blue Steel; also schedule a rematch for the Michigan State Championship: Father Time vs. Sebastian Rose. Xtreme Bombshells of Wrestling will have its XBW Championship decided inside a 15 foot Steel Cage with international superstars Leah Von Dutch vs. Courtney Rush, along with an appearance by Jewells Malone and Jasmin Areebi.
Pro Wrestling Smark Talk recently spoke with Blue Water Championship Wrestling/Xtreme Bombshells of Wrestling Owner Andrew D'Arcy very briefly about his wrestling and business background; also promoted the upcoming event "SLAM JAM 2014".
1). Andrew D'Arcy, could you tell to my blog readers about your professional wrestling background?
Andrew D'Arcy: "So now I'm promoting for both Blue Water Championship Wrestling and Xtreme Bombshells of Wrestling. In reference to my background, I had started training in 1995 under the guidance of Al Snow while I was in high school at Body Slammers Pro Wrestling Gym. I was there for about 6 weeks then unfortunately had to come back to school from break. I was fortunate enough to get my first match vs. a man by the name of Ric Austin which I thought was a great experience. I want to give a very special thanks to Promoter Phyllis Lee & Al Snow for showing me the path to take in this business. Then in 1999-2000 I met a man in my area by the name of Walt Elsey Jr (aka Guardian) where I completed my training from Black n Blue University II. I had worked for many companies up and down the east coast and the Great Lakes Region for 13 years working with some greatest people such as Bastian Booger, Rick & Scott Steiner, "Sexy" Sean Casey, Buff Bagwell, "Rocker" Marty Jannetty, Koko B. Ware, The Warlord, Steve Corino, The Orient Express, Demolition, Chris Kanyon, nWo Sting, Bret "Hitman" Hart and so many others. Also let it be known that Pro Wrestling is in my bloodline as 2 of my relatives were in the business. My cousin (even though we call him uncle) is Johnny Walker aka Mr. Wrestling II and my late Aunt Olivia (Walker) was a fashion designer most known for making custom robes for such people as "Nature Boy" Ric Flair, "Macho Man" Randy Savage, Dino Bravo, Rick Rude, "Mr. Wonderful" Paul Orndorff as well as many others. So I'm a 2nd generation worker myself".
2). Andrew D'Arcy could you briefly tell my blog readers about how you started Blue Water Championship Wrestling and Xtreme Bombshell of Wrestling?
Andrew D'Arcy: "In June of 2001 I had opened up Blue Water Championship Wrestling out of Port Huron, Michigan where I had run an average of 15-20 shows per year through Michigan. In July of 2009 I had decided to take a break from wrestling. Needed to think about my health being I'm a big guy and shed some weight. After my weight loss, I decided to have an itch to get back in the game again. But this time, i thought to myself, I needed a challenge. What could I do that nobody else does in my state…….so i decided to open up Xtreme Bombshells of Wrestling; the first Michigan based all women's pro wrestling organization. Since the announcement back in April of 2013, things have been crazy around here. We debuted August 24, 2013 in Kimball, Michigan which was a complete success and near sell out for the venue. Since then I opened up my wrestling school back up (which I had opened in 2003 for BWCW) in Port Huron and we've already gained major sponsorship from one of the local businesses".
3). Finally, what are your expectations for yourself and your two upcoming young promotions?
Andrew D'Arcy: "Expectations I'm looking to put together a product with concepts never used in shows. I'm looking to work with other promoters and looking to guide those from my past experience who are looking to get into the business. On a promoter's standpoint, I'm just continuing to do what I love. And that's continue to bring Pro Wrestling to communities and bring back that Old School feel that people desired in the past. Making it "Fan Friendly" and showcase that Pro Wrestling isn't as bad as what some folks think".
Special Note: If you want to read more articles from Pro Wrestling Smark Talk please go to our blog page www.prowrestlingsmarktalk.blogspot.com. Pro Wrestling Smark Talk currently has seventeen feature articles posted: The Santino Bros Wrestling School, Dragon Gate USA COO Sal Hamaoui, CZW Wrestling Academy (DJ Hyde/Shane Strickland), Cedric Alexander of C & C Wrestle Factory Interview, Beyond Wrestling Tournament for Tomorrow 2 Preview, The First Lady of PWG Candice LeRae, The Successfulness of Dragon Gate USA Seminar/Tryouts, Eddie Kingston: Discussing Outlaws, Inc., Star Destroyer Biff Busick and The Beautiful Kimber Lee Discussing Beyond Wrestling and The Campaign for a Better CZW, ACH: Previewing AAW Windy City Classic IX Match against Matt Cage, Interview with AAW Owner Jim Lynam, Previewing Wrestling Cares Race to the Ring Tournament with Greek God Papadon, Interview with New England Frontier Wrestling Superstar Bobby Ocean, Previewing ROH Top Prospect Tournament, Mid Atlantic Mayhem, Mid-Atlantic: The Alternative Solution of Pro Wrestling both articles written by Kyle Bowman and The Movement #WeAreChikara. The following feature articles upcoming: The Art of Refereeing in Professional Wrestling. Pro Wrestling Smark Talk can be reach via social media: www.facebook.com/prowrestlingsmarktalk and www.twitter.com/pwsmarktalk. Special Announcement: Pro Wrestling Smark Talk's Smark Chat is NOW AVAILABLE on YouTube (www.youtube.com/pwsmarktalk), Podcastgarden (www.podcastgarden.com/podcast/prowrestlingsmarktalk) and Stitch Radio (www.stitcher.com/s?fid=41436&refid=stpr).
Pro Wrestling Smark Talk's Smark Chat February Interviews
Angelus Layne (@angeluslayne)
Nadia Sapphire (@nadia_ageli)
Jewells Malone (@jewellsmalone)
Mia Yim (@miayim)
Alpha Female (@alphafemale1)
Mr. Touchdown Mark Angelosetti (@markangelosetti)
D'Arcy Dixon (@d_arcydixon)
Special Surprise Interview which will rock the Wrestling Foundation on Feb 2nd, 2014