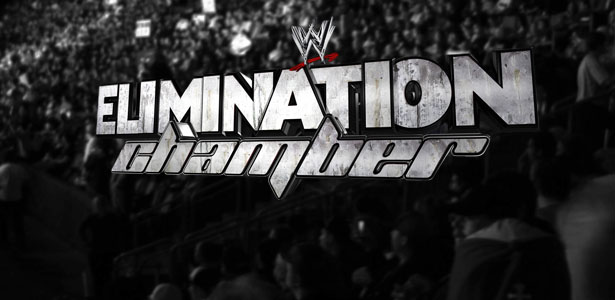 Elimination Chamber Predictions
With WWE's final pay-per-view before WrestleMania 30 almost upon us, lets take a look and predict what major angles will play out at the Elimination Chamber, and on the road to WrestleMania 30.
– Look for the 6-man tag team match between The Shield and The Wyatt Family to kick off the pay-per-view. Best bet is for The Wyatts' to win the match, due to some sort of miscommunication between Roman Reigns and Dean Ambrose. WWE has been teasing the internal struggle between The Shield, specifically Ambrose and Reigns, while Rollins plays the peacemaker role. This could set up the break up of the group, with WWE grooming Roman Reigns to be the next big star. What better way to end their terrific run than with a Triple Threat Match at WrestleMania 30.
The reason this match would kick off the show, is because I believe The Wyatt Family will interfere with the main event of the evening. With a big win over The Shield, look for The Wyatt Family (mainly Bray Wyatt) to somehow cost John Cena the Elimination Chamber match. This would set up a John Cena vs Bray Wyatt match for WrestleMania in New Orleans.
– The Usos will be challenging The New Age Outlaws for the Tag Team Championships, but will come up short. Road Dogg & Billy Gunn find a way to keep the titles, in heel fashion. One way WWE can get as many of its superstars involved at 'Mania will be a Fatal Four Way Match for the tag titles. The Outlaws, The Usos, Cody & Goldust, and possibly The Real Americans would make up that match.
– Batista will not lose his first singles match back in the WWE after a 4 year hiatus. He pins Alberto Del Rio, and will challenge the WWE Champion.
– Randy Orton will remain WWE Champion, with lots of help. The Wyatts will cost Cena his shot of winning gold. Kane and/or Triple H will cost Daniel Bryan his shot at becoming the face of the WWE. This will lead to Daniel Bryan challenging Triple H the next night on RAW, to a match at WrestleMania 30.
Surprise Returns
Brock Lesnar
PWMania.com has reported that Kane mentioned in a local interview that Brock Lesnar would indeed be at the Elimination Chamber pay-per-view, which is in his hometown of Minneapolis, Minnesota. However, it is now rumored that Kane misspoke in that interview, and that Lesnar will not be at the pay-per-view. Lesnar and Paul Heyman are confirmed for RAW the next night.
Chris Jericho
Y2J has again been working the "Internet Wrestling Community" with his latest message on his official Instagram account:
That photo was posted Friday, and Jericho made sure to include the Minneapolis hashtag, which of course is the city that will host Sunday's Elimination Chamber pay-per-view. Jericho also teased his return last month to the Royal Rumble pay-per-view, when he kept posting photos on his Twitter account of himself with fans during an autograph session and appearance. That appearance was in Pittsburgh, which was also the host city of the Royal Rumble, but Jericho did not return. While a return to Sunday's pay-per-view would set him up for another WrestleMania run, it seems highly unlikely he'll return. Jericho is very quite on his social media accounts when he indeed plans his returns, he likes the element of surprise. If you recall at the 2013 Royal Rumble, Jericho returned as the #2 entrant, and the arena erupted when his music hit. No one knew of his return, and he didn't tease it all. Jericho is just "working" the wrestling community again.
Rob Van Dam
RVD has been out of the WWE for months now, but rumors swirled of his WWE return two weeks ago when he was spotted backstage at RAW in his hometown of Los Angeles. He didn't return to RAW that night, but it was reported he met with Triple H, and the two discussed his return. RVD has been hinting to fans on Twitter that he will be returning "soon" and even mentioned to one of his followers that he would like to return prior to WrestleMania. I don't see Van Dam returning at the Elimination Chamber, and at this point, WrestleMania 30 plans seem to be set. Look for RVD to return after Mania, and having a similar run that he had last summer when he reappeared in the WWE at the June Payback pay-per-view.
RAW/WWE Network Launch
It doesn't seem that those three big names will be returning Sunday at the Elimination Chamber PPV. However, WWE is preparing for a big Monday night with RAW, and the launch of the WWE Network immediately following RAW.
WWE already sent out a press release announcing that Hulk Hogan will be the official host of WrestleMania 30. It has been confirmed by TMZ News that Hogan will appear on Monday's Raw. Below is the post from TMZ.com:
Hulk Hogan is returning to the WWE, brother … TMZ Sports has learned.

We know .. Hogan has been training at the WWE Performance Center in Florida … and our rock-solid wrestling sources tell us the Hulkster will make his re-debut with the WWE on "Monday Night Raw" on Feb. 24th.

It's unclear if Hulk — who hasn't been with the WWE since 2007 — will actually be wrestling a full match … but we're told he plans to get physical.

Hulk's return is scheduled to coincide with the debut of the new WWE Network.
Also confirmed for RAW are Brock Lesnar and Paul Heyman, and if all the WrestleMania rumors are true, I'd look for The Undertaker to make his return and confront Lesnar. This will set up their long awaited match for WrestleMania 30.
Look for the WWE to bring back as many big names and superstars possible for RAW, in an effort to have a successful Network launch. It will be a historic night on RAW.
Thanks for reading, and please share your thoughts and ideas below. What do you want to see happen at the Elimination Chamber, or the next night on RAW? What's matches do you see happening at WrestleMania 30? Follow me on Twitter @Enzo_Marino, where we have fun during pay-per-views and RAWs, and I'm always ready to talk wrestling. Enjoy the road to WrestleMania, and the launch of the WWE Network!