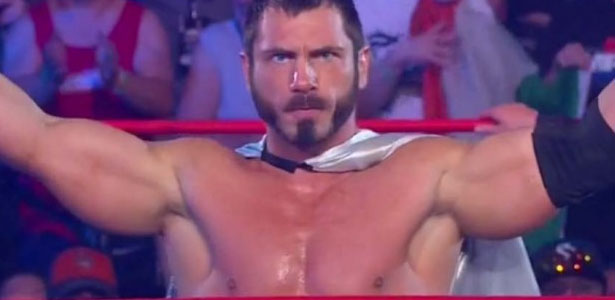 – Austin Aries, who was outspoken about TNA possibly bringing back the six-sided ring while the voting was going on, tweeted the following after TNA confirmed the return on Monday night:
A self-imposed social media moratorium starts….now. #GettingOutOfMyOwnWay

— Austin Healy Aries (@AustinAries) June 24, 2014
– Dixie Carter confirmed on Twitter that Friday's TNA tapings in New York City are sold out. She said they would try to release holds and admitted that there are still tickets available for Wednesday and Thursday's tapings.
– As noted, Brooke Tessmacher and her boyfriend Robbie E just finished CBS' The Amazing Race and could be returning to TNA at this week's tapings in New York City. Robbie indicated on Twitter that he was indeed headed to New York City and partner Jessie Godderz later confirmed that BroMans will be in action this week. Brooke tweeted that participating on the show was the most amazing experience of her life.
– TNA has announced the following for this Thursday's taped Impact Wrestling broadcast on Spike TV: a celebration for Bobby Lashley's World Heavyweight Title win, Willow and Abyss vs. Magnus and Bram in a Monster's Ball Match, Gail Kim & Taryn Terrell vs. Angelina Love & Velvet Sky plus Austin Aries vs. Sanada for the TNA X Division Title. Below is a preview: