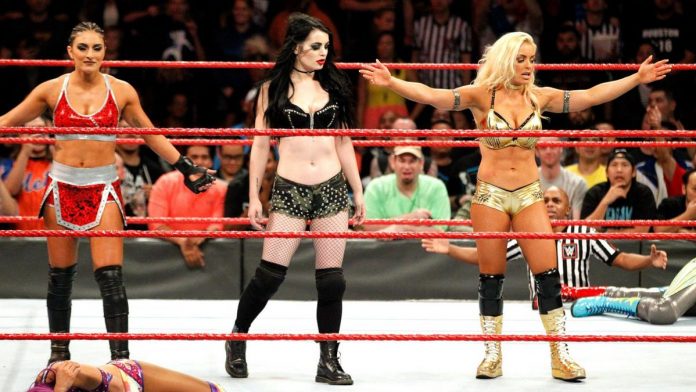 While Paige, Mandy Rose, and Sonya Deville are known collectively as "Absolution," Vince McMahon had a different name in mind for the faction.
According to The Dirty Sheets podcast, Vince McMahon was sold on the idea of the group debuting as "PMS," which would stand for, "Paige, Mandy and Sonya." Stephanie McMahon, however, squashed the idea and the group debuted on Raw on November 20 without a name. A few days later, she made the decision to call the group "Absolution," and the trio formally called themselves that on Raw on November 27.
Vince McMahon felt the "PMS" name was a suitable fit as the trio would be angry at having been forgotten. He also felt that the name would escape criticism as the letters fit the initials of the group members, rather than forcing it the way the company did in 1999 with the Pretty Mean Sisters (PMS), which was a female stable consisting of Terri Runnels, Jacqueline, and Ryan Shamrock.
Here is what a WWE source said about this:
"This was an idea for a few hours until Stephanie got wind of it just before showtime and canned it.
"Vince took some convincing, but in the end, the general consensus was that children wouldn't understand it and Raw is still primarily designed to attract an 18-45 male audience, based on the advertising placed whilst Raw airs.
"Stephanie was able to overrule Vince and get it scrapped instantly. The change happened so late, that the group didn't even announce their name on their debut.
"In hindsight, they have probably dodged a bullet on this occasion, but overall it's a worrying sign, as the writing team generally feel like most of Stephanie's ideas are absolutely terrible."