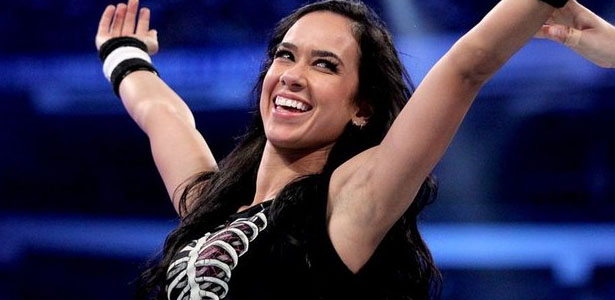 After dropping the Divas Championship week to the debuting Paige, AJ Lee is taking a hiatus from WWE.
Conspicuous by her absence on recent Raw's was the New Jersey native, who many would have expected to address the young upstart after she ended her record-setting 295-day title reign. When she didn't appear on Monday April 14th's Raw in Birmingham, Alabama nor Tuesday April 15th SmackDown and WWE Main Event taping in Nashville, Tennessee, questions were raised. (Hot Photos Of AJ Lee's Assets In Action)
The script for April 14th's Raw episode leaked and she and boyfriend CM Punk were listed as "injured – to be determined." For those wondering what this means about the status of both, Figure Four Weekly editor Bryan Alvarez addressed as much on the Bryan & Vinny Show on F4WOnline.com:
"For those of you asking about why AJ and CM Punk were listed on the injured reserve, that list does not necessarily mean 'injured'. It is a place that you put people and by putting them in the injured reserve list, people ask fewer questions. That's how it was described to me," said Alvarez. "I believe that AJ asked for time off. She's not hurt, and obviously CM Punk is not hurt. Punk, like I said, I don't expect to see him back. AJ will probably be back but she's also engaged to CM Punk and you never know. Far more likely she will be back but right now she's on hiatus."
Lee's services may not be required until after Extreme Rules since she is not getting an immediate championship rematch against Paige. Her partner in crime, Tamina Snuka, won a Divas Championship No. 1 Contender Battle Royal on WWE Main Event to secure a title shot at the annual event taking place May 4, 2014 in Lee's backyard of East Rutherford, New Jersey.