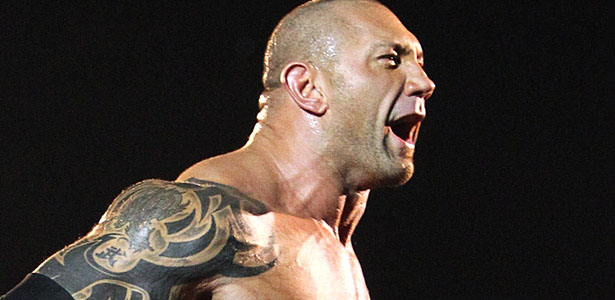 – Batista proclaims in the latest issue of WWE Magazine that he didn't return to WWE to be a "savior." Rather, he sees himself as "just as an addition."
In response to question asking what he offers to the current WWE landscape, Batista states, "I hope I have something to offer. If I say I'm going to come back to be the savior, well, the company doesn't need saving, I'm just an addition. I'm going to bring my style of wrestling back, a little bit more aggressive and more explosive. I think I'm going to be coming back and bringing a little more attention with the projects I've done outside the company. I'll pull my weight, I think I have the credibility and respect factor."
Batista also says he's not specifically targeting anyone, except for the individual holding the WWE World Heavyweight Championship.
In response to whether he's looking to settle a score with anyone, Batista says, "That's the great thing about my career—I've pretty much worked with the best in the world and the best that's ever been…I've worked with Ric Flair and Triple H, Shawn Michaels, Undertaker, Eddie Guerrero. That's a short list. I've been in the ring with and faced off against The Rock. I've been in the ring with "Stone Cold" Steve Austin. There are new guys I'd like to work with in the future. I've said this for years, I wanted to be Undisputed Heavyweight Champion and now it seems more attainable than ever. That's my goal and that's my target. I'm not looking at any one individual other than the person who is holding that title."
– "Trademark" Tommy Maclin, a New Jersey-based wrestler who signed a developmental contract with WWE late last year, has been named Stephen Kupryk. His Twitter account is located @NXTKupryk.
Maclin is a product of Larry Sharpe's Monster Factory. According to the wrestling school's official website, he had less than a year of wrestling experience when he was signed.
– WWE NXT star Corey Graves turns 30-years-old on Monday.