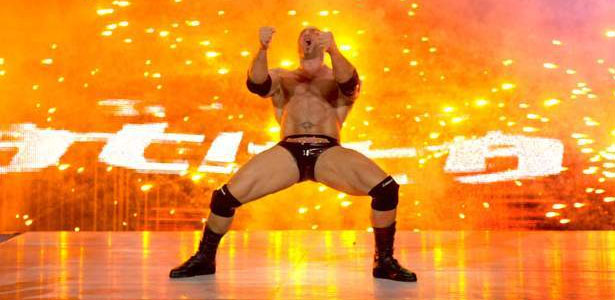 "The Animal" Batista, will be unleashed on the WWE Universe once again tonight.
The former two-time WWE and four-time World Heavyweight Champion makes his return to the WWE for the first time since leaving the company in the spring of 2010.
It will not be a short visit back to the WWE for Batista as he has signed a two year deal that will see him in action more as a full time superstar instead of sporadic appearances like Brock Lesnar or The Rock.
With a long term run ahead of him, what will the plans moving forward be for Batista?
He has already been announced as one of the 30 participants in the 27th edition of the Royal Rumble match this year.
Batista is no stranger to success at the WWE's first pay-per-view of the year as the former champion won the 2005 edition of the Royal Rumble match and defended the World Heavyweight Championship against Mr. Kennedy in 2007.
But should Batista win his second Royal Rumble and challenge for the WWE Championship at WrestleMania XXX after only being back in the company for six days?
With anything possible in the WWE, it would make most sense for Batista sling some of the lesser superstars over the top during the Royal Rumble, but not be the last man standing this year.
The outcome of Batista winning the Royal Rumble after returning would be too easy to predict by the majority of WWE fans and would likely just be avoided by the WWE.
As focus shifts from the Royal Rumble to the ongoing Road to WrestleMania and beyond, there are plenty of opponent and storyline options for Batista.
The WWE could easily insert Batista into a feud with another former World Heavyweight Champion Alberto Del Rio, which the two seem to have a legitimate heat between each other in recent Twitter exchanges.
John Cena, the final opponent for Batista before leaving the company, could make for an interesting WrestleMania program this year after their great feud for the WWE Championship in 2010.
With the WWE continuing to make strides to build SummerSlam as a second WrestleMania each year, a Batista-Brock Lesnar feud would make for an excellent main event match for the pay-per-view as a fresh new rivalry for the WWE Universe.
The list could go on and on with interesting scenarios for the Animal, but it's certain the future is bright for both Batista and WWE fans alike.
About Chris Humphrey: Chris is a former WWE featured columnist for Bleacher Report, along with covering a variety of other topics from college football to the UFC. You can follow him on Twitter at @_CBH_.