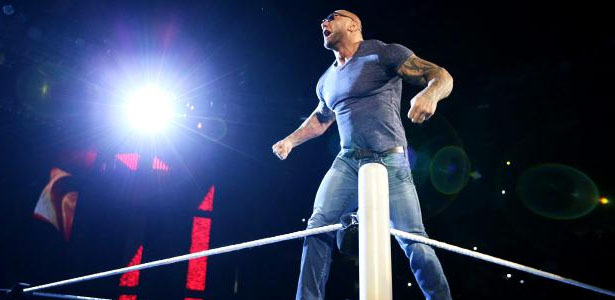 – Batista confirmed to TampaBay.com that the Gracie Fighter Jiu-Jitsu gym in Tampa that he co-owned went out of business shortly before he began filming Guardians of the Galaxy. Batista noted they had a bad location with no air conditioning and that the gym just couldn't pay the bills. Batista also admitted that he wasn't seeing eye-to-eye with WWE creative when he left. He commented on his wrestling career:
"I put it aside for now, and that really had a lot to do with my obligations to Marvel. But it also had to do with the fact that (the WWE and I) weren't seeing eye-to-eye, creatively. The stuff they were doing with story lines just didn't make sense to me. … I'd love to go back. I'm a professional wrestler at heart and I miss it. But I want to be there and be happy with what I'm doing."
– Rob Van Dam returned to action at today's WWE live event in Melbourne, Australia. Sheamus retained his United States Title over RVD and Cesaro.
– Below is a spoof Conan did on released WWE wrestlers: