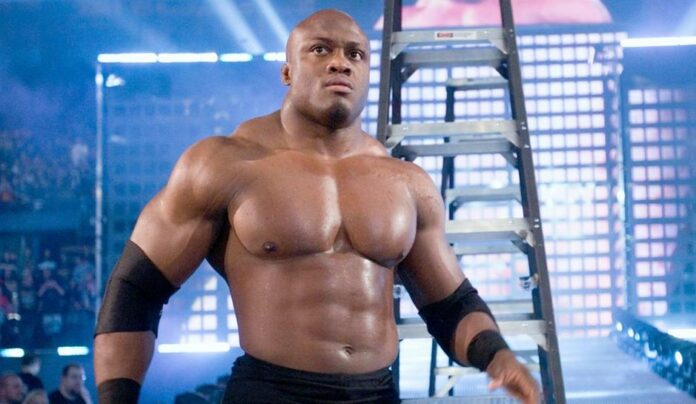 During an interview with Main Event Radio at last week's Impact Wrestling tapings at Aberdeen Pavilion in Ottawa, Ontario, Canada, Bobby Lashley claimed that Paul Heyman reaches out to him when he's upset with Brock Lesnar.
He said, "I'm going to send Paul [Heyman] another tweet. Paul will reach out to me out of nowhere with a tweet or text. Those are the times where Brock kind of pisses him off a little bit. Then he calls me and sees how I'm doing. Then him and Brock make up and he disappears. I think Paul says if Brock pisses him off enough and he needs to bring someone in to shut him up I'm the man. But then they make up and he leaves me alone. Then I get another tweet out of nowhere and then he disappears again. It's kind of like the boyfriend and girlfriend, where the boyfriend says hes going to cheat on her and then she cooks him dinner and he changes his mind. Heyman is a big tease to me. I am the side chick. I'm okay with it. The side chick usually gets whatever she wants at the end of the day. Maybe it'll happen one day – Lesnar vs Lashley."
As far as Lesnar is concerned, Lashley wants to face him.
"There's not too much time left on my contract but I like it here. There are some big fights and big matches that people are constantly bugging me about that I have to consider. The only natural one is Brock [Lesnar]. Whether it's in fighting or wrestling, that match needs to happen. If he retires without doing that match, it's stupid. If I retire before doing that match, it's stupid. I could post a picture of my kids or of me eating a popsicle and people will ask me when I'm going back to WWE or when I'll go against Brock. It's one of those things that if the fans want it and beg for it enough, it'll happen."
On being in Canada, Lashley said, "I like Canada. The fans here are great. It's always good to come up here with some good energy. Coming out to different territories after being the same area for such a long time. It's good to get a different group of fans. I've heard Toronto might be next, I would be happy to go there. We are going to be going back and forth. Orlando is our home we will back there too."
On which Impact Wrestling stars impress him, he said, "We have so many great guys in Impact. Eli [Drake] is on fire. He is on top of his game, looks like a million bucks, great on the mic, great person to be champ. It will be hard to take the title away from him. Moose is awesome. I'm going to give him credit. I like fighting him. Whether it's MMA or wrestling I try to find the best people and go after the best people. King Mo is trying; he's getting there. I don't know which one is harder – going from MMA to wrestling or from wrestling to MMA. Because CM Punk didn't fare too well. He will fight again though, you can't end your career with a loss."