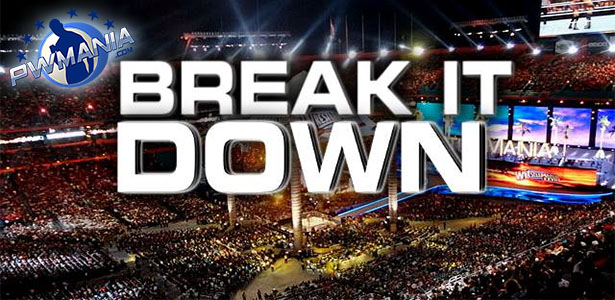 Greetings fellow wrestling fans. My name is Brett Deutchman and this is Break It Down with The Deutch (pronounced Doich). I'll be throwing in my 2 cents as to what I think about the current and past happenings in the wacky world of professional wrestling.
I attended Extreme Rising's Unfinished Business event at the former ECW Arena in Philadelphia. I had attended two of their events last year and was really impressed by their presentation and was looking forward to this event.
Unfinished Business was a fun show to attend live. My brother and I went to the fan fest prior to the show and as soon as we heard Balls Mahoney busting some fan's chops about how he's never heard of him before, we knew we had to get a picture with him, which we did. He was sporting a Game of Thrones shirt which he actually wore in his match later that night with 2 Tuff Tony. He's one of the funniest guys you will ever meet.
We also met up with Matt Hardy and got a picture with him. Some people give Hardy a hard time because of his WWE aura. But for me, Hardy actually got me into independent wrestling when he mentioned Ring of Honor during his feud with Edge in 2005, so I credit him for introducing me to wrestling outside WWE.
The setup for the actual show was well done. The addition of a mini titantron with graphics and an entrance-way with smoke emanating from the floor gave the show a strong, professional presentation. It was a packed house with almost all the seats taken, which made for a loud and entertaining atmosphere.
The card was solid for a TV taping. It started out with a comedy match with Blue Meanie, Robbie Mireno, Cripple H and "Santa Claus."
Next came Homicide vs Ricky Ortiz. I was thrilled that Homicide came out to his old ROH/JAPW theme song as opposed to Cypress Hill's "Insane in the Brain" in past Extreme Rising shows. I like Cypress Hill, but the Ironside intro with the sirens blaring followed by Beanie Sigel is a part of Homicide's character that cannot be replaced. I was expecting the crowd to pop once the music hit like ROH crowds usually do, but they did not react until Homicide himself appeared. As for the match itself, Ortiz got a lot of heat which is good because it establishes him as a strong heel character, while Homicide showed that he is one of the most versatile athletes in wrestling.
The next match featured Rhino and Crowbar (Devon Storm). The two delivered a great hardcore match with plenty of weapons and spots to put on exactly what it was supposed to be: An Extreme Rematch.
El Hijo de Rey Misterio vs Papadon: This match was alright. I thought the clash of styles did not really succeed here. Both are great athletes in their own right, but I think if each had a different opponent, it would have been better.
Balls Mahoney vs 2 Tuff Tony: What a finish! 2 Tuff Tony sets his arm on fire to knock Mahoney down for the win. I thought this one was going to go longer, given the buildup for the whole JCW outsider challenge. Hopefully there will be more to this feud in the future.
Sabu vs Facade: Very good match to get the crowd going again after intermission. I like both wrestlers, but I hope that Facade can pick up a win and establish himself in future matches. Facade did get a nice ovation afterwards though.
La Familia Warfare: Awesome display of lucha libre. I had never seen a Damien 666 match prior, so it was interesting to see him in the ring with the others whom I had experience watching before. This match goes to show that lucha libre is alive and well and is here to stay in Extreme Rising.
Stevie Richards vs Steve Corino: Solid for what it was. I think people expected a different person to face Richards and I would agree. It'll be interesting to see what develops if it is decided that Corino/Richards should be continued.
Matt Hardy vs Luke Hawx: Earlier in the show, this match was made into a steel cage match. The addition of the cage added to the feud, as it is one of the more intense ones in Extreme Rising. Luke picked up the win after a maneuver onto Hardy off the top of the cage (Can't remember what it's called).
I also liked the segment with Blk Out where Ruckus and Jeez came out in full heel mode to rip on the ECW legacy. Jeez is great on the mic and works as a good spokesman for the stable. The crowd popped for Pitbull Gary Wolfe interrupted them, but not so much for the Hit Squad who ran in to beat them down. The Hit Squad has been around for over 10 years, so you would think most Northeastern independent wrestling fans would know them. I hope they bring them back because they were always an awesome tag team.
Overall, Unfinished Business was a good comeback event for Extreme Rising. They are starting to regain their momentum and hopefully will kick it into high gear with their next few shows.
Until then, see you next time on Break it Down with The Deutch! Post your thoughts, opinions, feedback and comments below.