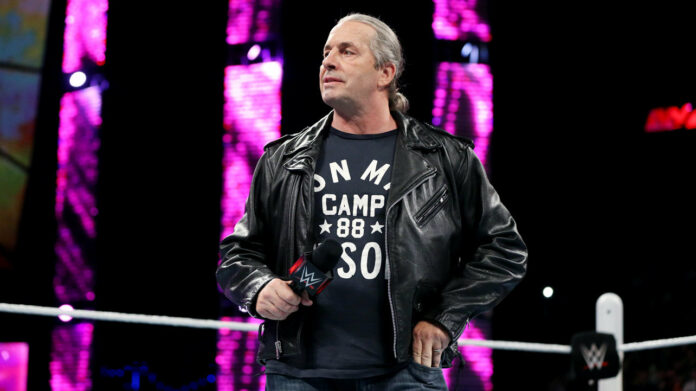 Bret Hart has given a scathing assessment of the way Eric Bischoff dealt with talent during his time in WCW.
"The Hitman" spent three years in WCW between 1997 and 2000, during which time Bischoff was Executive Vice President of the company. During an interview on the Sam Roberts Wrestling Podcast, Hart gave examples of Bischoff's mismanagement and described him as "the worst loser maggot that ever got into wrestling."
Highlights from the interview are as follows:
Bret on Eric Bischoff and WCW:
"I think WCW would kill any kind of joy in your life I think I started to hate money, the money they paid me was insane. I would be off and then they would pay for a first-class plane and car and then just before Eric Bischoff would tell me I had the day off, I didn't go down to dog it I came to work. They were so bad they would kill any hope in anybody, I don't have anything good to say about Eric Bischoff or anything he ever did, talk about a midas touch, he had the opposite. He could kill a career and wouldn't even know it, you could have passion and a genius for the business and he wouldn't have a clue, he was the worst loser, maggot that ever got into wrestling, he was a nice enough guy, but he was just the worst.
They had everything and all they needed was someone who knew what to do, someone with half a brain."
Bret on Being a "Broken Toy" in WCW:
I've heard his quote which is why I get pretty hostile about him, about me coming to WCW as a broken toy who didn't have the same fire. I could strangle him when I hear that, that is so not true, I was on fire I wanted to take the world on, I wanted to kick Vince right in the teeth, give me Booker T, give me Benoit, but he was such an idiot. I would tell him that right to his face if he was here. Look at wrestling today, it's a monopoly, so the wrestlers themselves have no leverage of any kind they can't say oh I'll go to WCW, it was so much better for the wrestlers they had a bargaining table and that's all Eric Bischoff's fault, he killed the wrestling business, he was the worst."
Bret also discussed the time that was left in his infamous "Montreal Screwjob" match with Shawn Michaels at Survivor Series 1997, and who he likes watching today.
Bret says there were 25 minutes left in the match with Shawn Michaels:
"It's a shame that the screw job happened because I never got to work with Shawn or Steve Austin, can you imagine the matches I could have had with Rock when he was finally over? It's just a shame thing happened the way they did, in 97 I had so many great matches, when I think about the SummerSlam with Undertaker, what a great match. Two wrestlers who had so much respect for each other and took pride in their work. I look back at '97 and the matches I had with Austin, even the screw job was a good match until the screw job. That was all planned the way the match was planned, we still had 25 minutes planned. When they finally started the bell was when the whole wrestling match was going to happen, it was great energy I was on my way to having a great match. We were telling a story and if the screw job had not been written into this whole thing it might have been the best match we ever had."
Bret on who he likes today:
"I really like the Canadian guys, Kevin Owens and Sami Zayn are two of my favourites, it's hard not to like Randy Orton or John Cena, I love John Cena I think he's one of the greatest wrestlers ever, I really am a fan of his work ethic and his ability to work with younger guys. I watched him, I think on Raw just last week and thought he had a great match, I admire him for always being a steady pro and going in and giving his best. There's a lot of guys, you don't have to be the greatest high spot guy to be the best wrestler, wrestling is a performance art and you want to have a different story. To me, every match and every performer is an artist, I would give my best to give whoever I had to work with the best match they'd ever had. One of the things I appreciate the most about my career that makes me feel good, so many wrestlers have told me that the best match they had in their career was against me. I was never a greedy guy, it was about us and the story we are going to tell."