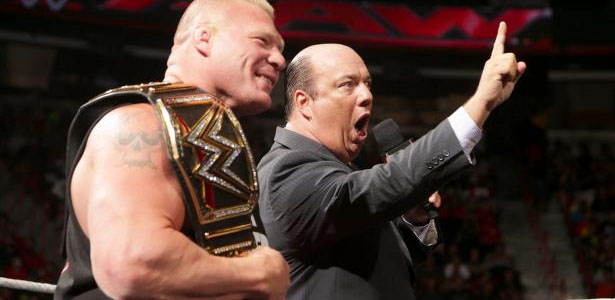 In my opinion, one of the only things in WWE at the moment that is keeping my attention is the fact that Brock Lesnar is now WWE champion. Summerslam was 2 weeks ago, and since I've been seeing tweets about the validity of Brock's run because he is part-time and some negativity towards his victory. I just wanted to say my opinion and question some of the negative opinions that these fans seem to have.
First of all I completely understand and appreciate the criticism that Brock Lesnar is a part-time superstar who only appears a set number of dates according to his contract. However, this isn't any superstar, I'd totally get it if it was Batista or even Cena working part-time and winning the belt but this is Brock Lesnar – other than his multiple runs as WWE Undisputed/WWE Champion and even a stint as IWGP Heavyweight Champion prior, Brock is a NCAA collegiate champion and a UFC Heavyweight Champion. There is a reason why Paul Heyman keeps referring to these accomplishments in his promos and that is because they scream LEGIT. Out of anyone in the WWE, the most legit/real fighter is Brock Lesnar – yeah, Batista had fights in MMA but he never won the most prestigious prize in MMA. Anyway, my point is, is that Brock can have the belt for as long as he wants and nobody, NOBODY, can complain about a UFC heavyweight champion not losing. The counter-arguement to this of course is – "this is wrestling, it's storyline and narrative driven" and yes, it is but even within Kayfabe – Brock is a legit badass and a machine, most recently he conquered the Undertaker's streak which every year for probably the last 6 or 7 years has been the fans' main event of Wrestlemania.
Again, the criticism can be made of "why have a part-timer conquer the streak" and that's because it comes down to the fact that if Taker lost to say, Roman Reigns, the question has to be raised, even within Kayfabe – why couldn't CM Punk do it? Why couldn't Shawn Michaels? or HHH? or even Big Show and A-Train in a handicap match? It wouldn't really make sense. Not to mention that putting such a big title on a newcomer to help "put him over" may only hinder him and if in a few years they haven't reached his full potential it'll most definitely look like a waste. In my opinion, the only guy that within the world of wrestling that could have beat Undertaker at Wrestlemania would be Brock, Cena or Hogan in his prime. Obviously, the latter is impossible and Cena is positioned so highly as that superhero babyface that beating Undertaker would only allow more fans to turn on him (although a heel turn would have been fun). So is it really surprising that the most legit guy on the roster was the guy to conquer the streak?
This leads me to Summerslam – If Brock had just conquered the streak and then was beaten by Cena I think we'd all agree with the fact that the streak ending would have been just another ploy for Cena to be the underdog that we all know WWE want him to look like and for him to overcome the odds (which arguably could happen at NOC, hope I haven't jinxed it). But no, WWE seemingly has booked it the right way and had Brock demolish Cena which is definitely the most vulnerable we've ever seen Cena in a match. For this, the part-timing criticism of Brock may be one of his – and the WWE's – biggest strengths at the minute due to the prestige of the title. Brock dominating Cena in such a way puts him over big to begin with but Brock having a long run, with Heyman as the mouthpiece of course, Brock could really bring the WWE World Heavyweight Championship back to a level of prestige that it hasn't had for a while. Instead of looking at Brock being a part-time champion – view him as a special attraction, because that is what he is. Also, for those who are critical of the same guys getting the belt over and over, this is someone different – someone that WWE can take a new direction with. Remember, if the championship isn't on the line as much as well, it may add prestige and excitement for when Brock actually does have to defend it.
Perhaps, the biggest argument towards Brock being part-time as a negative thing may be this weeks RAW. Instead of Brock making an appearance, WWE aired a promo which, for me, worked just as much as an in-ring promo to hype the match for Night of Champions. Perhaps, it works best with Lesnar because WWE's editors can make Brock's mic skills shine. Whether or not you enjoyed this of course is an opinion but I really did and I additionally enjoyed the promo prior to Summerslam, which is why I believe that if WWE keep this up it can be the best WWE Championship run since, at least, CM Punk's.
Another criticism which I saw was that this gives Cena the opportunity to win the title for a sixteenth time, equalling Flair's record of championships. I feel like I am the only one that found that criticism to be counter-productive because the only way that Cena can't equal Flair's record is with either WWE never giving him the belt again (yeah, unlikely) or Cena maintains having the title and never loses it. I feel like this criticism was just fans looking for something to be negative about but I felt like I wanted to address it, maybe others would feel the same as I do? Or, maybe you could tell me your point of view in the comments below.
Finally, I just wanted to add that having a part-timer as champion may also effect the rest of the card and their performances. For example, currently, the Seth Rollins and Dean Ambrose storyline seems to be the focal point of RAW's which Brock doesn't appear on, for me anyway. Therefore, IF booked correctly, WWE could also use this time as a way to boost the prestige of the ever-so-lacking mid card titles which are seemingly cursed in recent history but again, trying to think optimistically, it means that the rest of the card has the chance to climb the ladder and – to quote CM Punk – "grab Mr. McMahon's imaginary brass rings."
What do you think? Comment below with your thoughts, opinions, feedback and anything else that was raised.
Twitter – @BomaKneee | Blogger – http://talkwrestlingtalk.blogspot.co.uk/