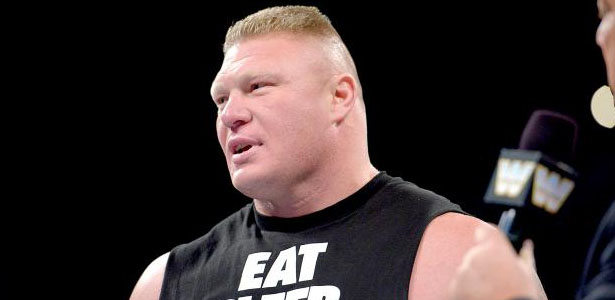 Brock Lesnar has returned to our TV screens as expected on the RAW that followed Battleground, and has immediately set his sights on becoming the next WWE World Heavyweight Champion. Just incase you hadn't heard 'The Beast Incarnate' became the '1' in '21-1′ when he conquered The Undertaker's undefeated streak at Wrestlemania – something you might have heard Paul Heyman mention once or twice this last few months. And now the only thing left for him to do in WWE is to once again sit on top of the mountain by reclaiming the industry's top prize.
Brock Lesnar becoming the champion makes all the sense in the world from a business perspective. He is a former NCAA, UFC and WWE champion. He's been there before but, right now as the conqueror of the streak, his stock in wrestling has never been higher. In the absence of the injured Daniel Bryan, John Cena has been carrying the titles around seemingly with the sole purpose of dropping them to the returning Lesnar at Summerslam. Bryan is the company's most popular superstar, and the heat Lesnar would have received for taking his hard-earned WWE World Heavyweight Championship away from him would have snowballed nicely with the heat he got for breaking the streak.
While Lesnar is more likely (if not certain) to receive a loud pop than heat if he beats Cena, there are still many reasons why this is the best way to go about getting the belt on him. John Cena is still the biggest name and the biggest draw in the company. He is a 15 time world champion now, and easily represents the most credible threat to Brock Lesnar – not to mention that he already defeated him in his first PPV match since that big return at Extreme Rules in 2012. Many believe this was a loss that harmed Brock Lesnar's credibility severely when he came back, and it is a difficult point to argue against.
It could also be said that Lesnar emerged victorious in his feud with Triple H – twice breaking his arm, winning their first match at Summerslam, and their third and final one at Extreme Rules. It was The Game, however, who emerged victorious at Wrestlemania when the most was at stake and, being at the grandest stage of them all, it will undoubtedly be their best remembered clash by WWE fans. Lesnar also defeated CM Punk in by far his best match since coming back to WWE, but the finish made his victory somewhat hollow when you take into consideration those previous shortcomings. Then he needed a chair to take out Big Show and, when you think about it, had only managed to comfortably take care of Mark Henry in his entire second run in WWE.
Then suddenly – shockingly – the streak was broken in half, and all the credibility, fear and mythos came flooding back in an instant. It is imperative now, I believe, that Lesnar not only beats John Cena at Summerslam, but absolutely annihilates him in the process, just as Heyman is threatening he will do. For this 'conqueror' angle to reach it's next plateau the leader of the Cenation must be the next victim to fall and in decisive fashion. Perhaps even suffering an injury in the process. If not at Summerslam then in their rematch, which would likely take place at Night of Champions, where Cena would be looking to equal Ric Flair's 16 world titles. It will make amends for that loss at Extreme Rules and more.
In Brock Lesnar, WWE can have a champion for their 'reality era' who they can genuinely claim to be the real deal. And whilst Lesnar is topping the card on their PPV events, defending his title against challenger after challenger, there would also be plenty of time to position somebody as the man to beat him – ideally at Wrestlemania.
By the time the showcase of the immortals comes around next year (and with some solid booking of course) Lesnar could easily have an aura surrounding him that can rival even The Undertaker before his streak was broken. 'The Beast' is after all the man who defeated him and it now makes sense to book him just as strongly, proposing to fans that for him to be beaten is to be considered a feat that matches the Deadman's proud legacy at Wrestlemania.
What do you think? Comment below with your thoughts, opinions, feedback and anything else that was raised.