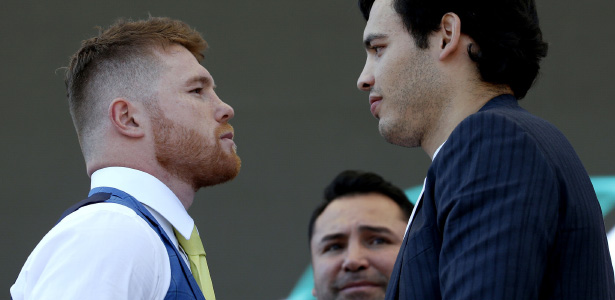 Saul "Canelo" Alvarez is one of the best pound-for-pound fighters in the world. Julio Cesar Chavez Jr. hasn't held a major title in nearly five years. But that hasn't kept Golden Boy Promotions and everyone else involved from treating their May 6 match like it's a clash of the titans. The WBC even created a special Cinco de Mayo belt for this non-title fight; every year, they'll award it to the winner of the biggest bout of the weekend.
There's no question this all-Mexican matchup will do massive box office. Millions of dollars will be bet on the outcome, too. When looking to place a bet, check out the SBR rating guide of best betting sites for a list of reputable sportsbooks, then take a gander at the odds for this bout; at press time, Canelo is favored as high as –800 on the moneyline, while Chavez is available at +565. In other words, the betting market expects Canelo to win this fight almost 90 percent of the time. That doesn't sound like much of a contest.
Cuts You Up
Everything about this fight has been set up for Canelo (48-1-1) to succeed. He's the top client at Golden Boy Promotions, the lineal middleweight champion and the No. 8 pound-for-pound boxer at The Ring. Chavez (50-2-1, 1 NC), the former WBC middleweight champ, is ranked No. 13 in his own division at BoxRec.
Except that division is super middleweight. Chavez hasn't fought at 160 pounds since dropping the WBC strap to Sergio Martinez in 2012. And he's been having trouble cutting down to 168 pounds, too. Chavez failed to make weight for his 2015 matchup with Marcos Reyes; they fought at a catchweight of 170 pounds, and while Chavez earned a unanimous decision, his performance wasn't well received by the fans.
Many of those fans have abandoned Chavez, judging by the poor turnout for his next fight versus Dominik Britsch. They agreed to a 169-pound catchweight for that fight, and Chavez made it all the way to 168 pounds this time – then he thumped his overmatched opponent in front of a very small crowd in Monterrey. Not the stuff of legends.
Duck Soup
Fight fans aren't exactly pleased with Canelo, either. He's been accused of ducking competition since his big 2013 payday with Floyd Mayweather Jr., although Canelo eventually followed up that majority decision loss by beating Miguel Cotto for the vacant WBC title, then defended it against Amir Khan. But instead of facing mandatory challenger Gennady Golovkin, Canelo vacated the title, and knocked out Liam Smith for the WBO light middleweight title last September. Ho-hum.
Now Canelo gets another opportunity to pad his resume, and he's already got Chavez on the ropes before they even enter the ring at the T-Mobile Arena in Las Vegas. For $6 million in base salary and an undisclosed piece of the revenues, Chavez has agreed to a catchweight of 164.5 pounds, and if he doesn't make weight, Chavez reportedly has to pay Canelo $1 million per extra pound. That's a very difficult bar for the underdog to clear.
It'll probably doom him in this fight, if he wasn't doomed already. Golovkin noted as much to reporters, saying he expects Chavez to go two or maybe three rounds before he's too weak to pose much of a threat. At 6-foot-1, Chavez was already having issues cutting weight in his early career, and as we've seen, those issues are only getting worse at age 31. He hasn't always taken his training seriously, either. But at least Chavez will get one more seven-figure payday out of the deal, and maybe a 10-percent chance of salvaging his career with an upset win over Canelo.