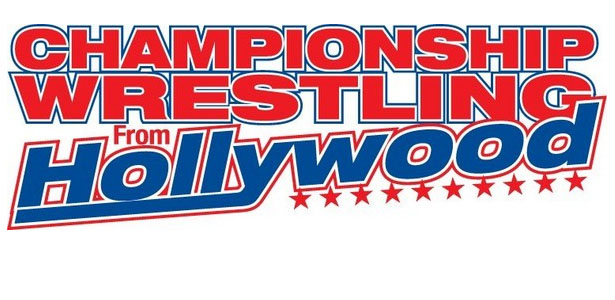 Championship Wrestling from Hollywood (3:00 am edition) 12/18/13
Welcome, once again, to Championship Wrestling from Hollywood! Our main event for this card is a double-purposed bout, as it for a title shot and a career.
Matt Striker opened the broadcast with The Revolution, which was a decent promo that was centered on their foreign-born superiority. After a minute or so, Eric Watts, of Tough Enough fame, The Hobo and Nick Madrid all came out to challenge the trio of vile outsiders to a six-man tag match.
Eric Watts, The Hobo and Nick Madrid vs. The Revolution – Six-Man Tag Match
We had a fun little match-up here that gave everyone a chance to shine. The Revolution, despite being the latest in a seemingly endless amount of factions, has matured quite nicely into a fine unit that puts on solid matches. Eric Watts was able to show more here than he was ever allowed to on Tough Enough, while Nick Madrid keeps getting better all the time. All of this added up into a short but sweet little bout that opened us up nicely for the evening.
Winner: The Revolution
Thomas Namaste vs. James Morgan w/ Stu Stone
Tommy Misfit has switched to a new gimmick called Thomas Namaste, which is a mixture of a yoga instructor and Brian Kendrick's gimmick during his second TNA run. Despite this colorful upgrade in persona, it didn't save him from being obliterated by Morgan in this quick, well worked squash match.
Winner: James Morgan
After Morgan forced Namaste into doing a backwards sunset dog (or whatever the yoga moves are called) his manager, Stu Stone claimed that Morgan deserved the Heritage Title shot and that his other client, Othello, should get a tag title shot next week… with Stone as his partner! This could be a very fun bout if Stone is competent enough a wrestler.
Hoss Hogg w/ Kylie Sutton vs. Brian Weston w/ Hector Canales
This was a slow brawl that picked up in the second half, with Hoss looking good as a wrestler and Brian as a character. Hoss reminds me of a very happy Stan Hansen, which certainly has some kind of benefit for the country-boy grappler. Weston continues his dementedly-odd run with another performance here that makes you wonder if CWFH got the former Nobody from the bowels of an insanitarium. If not, then Weston is a really strong actor, because he gives me the heebeegeebees.
Winner: Hoss Hogg
Main Event: Mikey O'Shea vs. Ryan Taylor – # 1 Contendership Match for a Heritage Title Shot & Ryan Taylor's CWFH Career
In a quick update to last week, Taylor has supposedly stolen the Heritage Title from Scorpio Sky, which of course makes him a dirty little thief. I apologize for not having that bit of information ahead of time, but at least we have it when it counts. This match ended up as a terrific main event that featured more of Ryan Taylor's expert athleticism and more of Mikey O'Shea's patented physicality. Ryan reminds me more and more of Frankie Kazarian, embodying the same fluid in-ring abilities that the TNA mainstay has been polishing for years, while O'Shea has a lot in common with Samoa Joe and Rhino's in-ring capabilities. This resulted in some very crisp exchanges that elevated this bout to a very enviable level for their peers. Great work here by both men, with a surprise ending to round the evening off with.
Winner: Mikey O'Shea
Jon Ian's assistant, Danielle, who is serving as General Manager in his absence, is forced to fire Ryan Taylor, on the spot. What followed was some of the best character work by Taylor that I've seen thus far from him. He lives and breathes is heel gimmick, from the sense of entitlement to the ruthless aggression, Ryan has turned his character into one the most reliable gimmicks in wrestling today. Hopefully, this firing is only a storyline, as it would be a true shame to lose this ever growing talent.
Well, that final paragraph brings us to the end of another review for CWFH. I thank you for reading and I hope you seek out this very fine promotion, whenever possible.