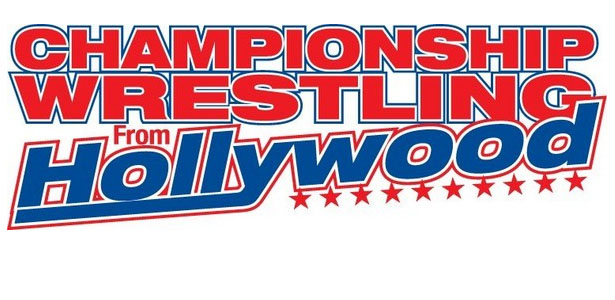 Welcome back to another broadcast of "Championship Wrestling from Hollywood". This week we've got a tag team main event that emanates from the confines of a STEEL CAGE!!! However, before we reach our volatile main event, there are a few other bouts to tend to first.
Famous B vs. So Cal Crazy
Our first match-up of the evening turned out to be quite fast-paced, with excellent usage of lucha libre, brawling and mat work throughout. I spoke of Famous B last week, so I'll give you a brief introduction to So Cal Crazy. So Cal is a very apt luchadore with a good look, although I fear that the mainstream would be a bit harsher on him due to his more modest appearance. In any case, this match came together very well, until the Family Stone ran in to cause a DQ, leaving us without a clear-cut winner.
Winner: ???
Post-match: Stu Stone gets his microphone and dresses down the roster until he gets to Terex, where he claims they will take him out right now. Well, that's rather presumptuous of them, isn't it? Not one to run from a challenge, Terex does indeed make his way to the ring for a "No Disqualification Match" with Cedric of The Family Stone. This was well done, despite going a bit too long for my taste. Additionally, how is a mere manager able to book matches?
Terex vs. Cedric – No Disqualification Match
I'll admit that I didn't have high hopes for this match, considering that Terex is, to be frank, morbidly obese, a trait that typically dooms most. Fortunately, Terex is quite talented for any size and it showed here, with some great selling on his part that showcased how flexible the big man can be. Not to discount Cedric, for he too put in a strong performance here while avoiding the urge to over-sell as many wrestlers tend to do in stipulation matches. Our finish came when The Family Stone interfered and incapacitated Terex with various power moves to open him up for a pin-fall victory for Cedric.
Winner: Cedric – Pin-fall
In-ring interview: CWH General Manager John Ian was questioned by Dave Marquez about Shaun Ricker's exile by way of losing his "Loser Leaves Town Match" to Scorpio Sky for the Hollywood Heritage Heavyweight Championship. Ian clears up the confusion by stating that he cannot change the match's outcome, but he can bring back Ricker, who comes out to the ring, fully reinstated. After Ricker begins to welcome himself back, The Experience barges in and, through their mouthpiece/manager Christian Cole, made the claim that Ricker was no hero, which was a sly reference to his time spent on The Rock's reality show, "The Hero". Wow, what a long winded sentence. They eventually beat down Ricker, because that seems to be their idea of good manners. My problem with this is that it makes Ricker's removal from the roster very hollow, along with the LLT match stipulation. When you send a wrestler away and bring them back with little to no consequence, it informs the fans that they shouldn't take that match-up very seriously in the first place. Otherwise, this was a well done segment.
Main Event: PPRay vs. The RockNES Monsters – Steel Cage Match (Escape Only)
This turned out great, with a tremendous amount of athleticism on display in our main event. Each man put in a noteworthy performance, utilizing the cage very well throughout the match. This was a very enjoyable bout that ended when Peter Avalon climbed over the cage's top.
Winner: PPRay
Well, thank you for reading this review and I'll be back next week with our latest edition of "Championship Wrestling from Hollywood".