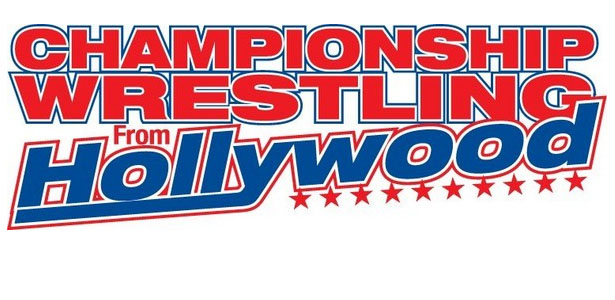 Championship Wrestling From Hollywood TV Report (3am edition) – January 2, 2014
Tonight, we have a rollicking good time headed our way, as a massive six-man tag match headlines this card as our main event!
Cedric The Hitman w/The Family Stone vs. Ian Sutton w/ The Sutton Family
We had some solid mat work highlight a very spirited bout for our opener here. Cedric kept an excellent pace with his transitions, which grounded this one in a believable reality. Ian, as far as his psychology is concerned, seems to be a bit impatient with his actions, as he's too eager to go from one spot to the next, in some cases. That all said, Ian's got some wonderful skills as a wrestler and the kind of charisma that could really help him stand out on the indy circuit. Their respective sensibilities met head on and left us with a short bout that seems to have only scratched the surface of what these two are capable of with one another. I look forward to what a longer offering brings us from this pairing.
Winner: Cedric The Hitman
Hoss Hogg w/ The Sutton Family vs. James Morgan w/ The Family Stone
This bout immediately followed our first and pitted one of CWFH's top performers in James vs. another great character in Hoss. This bout is notable for Morgan's exceptional technical work, which was utilized throughout this match. James methodically worked over each body part, with great care taken in how his attack would disable Hogg. This allowed the match-up to feel more so like a competitive sport than a "rasslin" brawl, which is a sight that I'm not always privileged to behold. This match continued the trend of Stu Stone's villainous faction's domination, as Morgan was booked to win here.
Winner: James Morgan
Todd Chandler vs. Eric Cross
This was a fine offering from these two, with Cross jobbing to Chandler for our finish. It's amazing to see what just a few weeks will do to a career, as Cross has lost on a couple of occasions in the past month, and yet, he is one the strongest characters in the company. The reason his losses haven't buried him alive, is because he's been booked to be a sore loser, which seems to be a trait that Eric can play very effectively. Todd, on the other hand, won this match and looked quite good in the process. He worked this one with very fluid movements all throughout, which complimented Cross's mat-based approach to performing. After Todd reigned supreme, Cross got cross and attacked Todd mercilessly. To Cross's dismay, Joey Ryan emerged and repelled the sore loser with some strikes of his own. I liked this, as it gave Todd a legitimate victory, while allowing Eric a chance to expand his gimmick a bit more.
Winner: Todd Chandler
The Revolution (not the one with Prince) beat down a man whose name, I believe, was Dan Coulson. From here, the faction challenged Erik Watts to a Chain Match, for the near future.
MAIN EVENT: PPRay & Mikey O'Shea vs. Johnny Yuma, Ryan Taylor & Tito Escondido – Six-Man Tag Team, No DQ Match
What a wild fracas this was, with every kind of attack possible implemented in this truly satisfying main event. Despite the typical nature of a weapons match, this bout avoided that fate, as the pacing here was just right, with each object being introduced to the melee at the appropriate time, so as to not undermine the story being told. Everyone shined here, everyone delivered and everyone deserves the praise for making this match-up a success. Towards the end of the match, Johnny Goodtime made his return and helped Yuma. Taylor and Escondido win the match.
Winners: Johnny Yuma, Ryan Taylor & Tito Escondido
Soon after the surprising turn in developments, Nick Madrid and The Hobo ran out to aid O'Shea and PPRay, only for another surprise to occur… they turned Nick heel and had him join the Yuma/Taylor/Escondido faction. Now, the group has five members and the most momentum of any faction in the company.
Overall, I feel like the surplus of factions in this company could serve to water down the appeal of this new group that we just discussed above. It seems that the status quo needs to be addressed, and likely altered, to accommodate this new angle and insure its success.
Otherwise, this was a worthwhile edition of CWFH and has left me waiting in anticipation for what comes next time.
Thank you for reading and I hope to see you, next time.