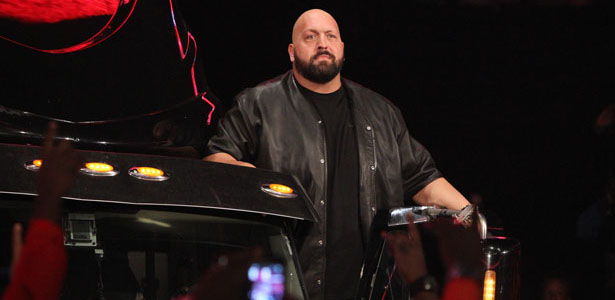 PWMania.com reader Alex Demski attended Saturday's WWE live event from the Birmingham LG Arena in Birmingham, England. He sent in the following live report:
WWE Live Results (11/9/13) Birmingham, England
* Diego (w/Fernando and El Torito) beat Jack Swagger (w/Zeb Colter). Colter cut a promo on how the U.K. has worse immigration issues than the USA, that he and Jack Swagger are here to help us, and that he wants to run for Prime Minister to sort out our issues. During the finish to the match, Diego and Fernando switched for Fernando to get the pin.
* U.S. champion Dean Ambrose beat Dolph Ziggler and Big E. Langston in a three-way match to retain the U.S. Title. Great triple threat match with lots of great spots involving all three guys. The crowd were very much into it. Ambrose picked up the win by pinning Ziggler after Big E. clotheslined him.
* Natalya beat Aksana via submission with the Sharpshooter. Aksana looked pretty good in the match and Natalya sold Aksana's beat down of her really well, even after the match. However, the crowd were pretty dead during this match.
* Kofi Kingston beat The Miz. Kofi picked up the win via pinfall after Trouble in Paradise. The match started off as a typical face vs. face match with a handshake and the crowd split cheering for both guys. However, throughout the match, Miz seemed to turn heel becoming more vicious slamming Kofi into the barricade and steel steps and arguing a lot with the ref. The crowd turned on Miz and were unanimously booing him by the end.
* WWE tag champions Cody Rhodes & Goldust beat The Shield (Seth Rollins & Roman Reigns) to retain the WWE Tag Titles. Cody got the pin with a roll-up on Rollins. Good match and the crowd were very much into it.
After the match, Rollins & Reigns tried to take the Tag Team Titles and walk away after beating down Cody, but Goldust made the save, threatening to use a steel chair, which made Rollins & Reigns retreat.
* Santino beat Fandango (w/Summer Rae) in a Fans' Choice dance-off. Yep, just as you would imagine it to go like we've seen on TV lots of times before. However, I though it was really good fun to see. After the dance-off, Damien Sandow came out and hit Santino on the head with the microphone. He then cut a great, heat-drawing heel promo stating that he is still the uncrowned World Heavyweight champion. He also bad-mouthed John Cena, which drew a few "Cena" chants.
* Damien Sandow beat Zack Ryder.
* Next was the main event of Randy Orton vs. Big Show. There were a lot of "Yes!" and "Daniel Bryan" chants before the match. Orton grabbed the mic and said that Bryan isn't here and to "shut the hell up and let me entertain you," to which he got a lot of heat.
* WWE champion Randy Orton beat The Big Show to retain the WWE Title. Mixed reaction for Orton throughout the match, but a huge pop for Big Show. Orton got the pin after an RKO following a distraction from Kane, whose music hit and he came out in his suit.
After the match, Kane called for The Shield the come down to the ring and they started to beat up Show, witch prompted more "Daniel Bryan" and "Yes!" chants. However, Big Show knocked them off one-by-one and also KO Punched Orton. Kane looked shocked and walked back up the ramp with The Shield and Orton.
To close things out, Big Show grabbed the mic and thanked everyone for their support. He said that he will phone Bryan to say that we were thinking of him tonight, which again prompted more "Yes!" chants.
Overall, a really good, fun house show, in my opinion, with lots of good matches. Match of the night for me was the triple threat match for the U.S. Title. However, there were lots of people, especially children, who were upset that there was no Bryan and Cena. Lots of people thought that Bryan would show up, as they were selling a lot of Bryan merchandise. The children were more upset that there was no Cena.
Biggest Pops:
(1) Daniel Bryan – "Yes!" chants (despite him not even being on the show)
(2) Big Show
(3) Cody & Goldust
Most Heat:
(1) Damien Sandow
(2) Zeb Colter
(3) The Miz (half-way though his match and after the match)