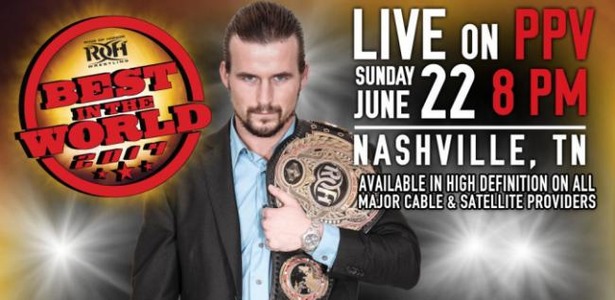 – ROH's head of marketing Court Bauer joined Bryan Alvarez and Dave Meltzer of F4WOnline yesterday to discuss Ring of Honor's new pay-per-view deal the company unveiled earlier that afternoon. Bauer spoke to Meltzer and Alvarez for 45 minutes and revealed some details behind the deal.
For this year Ring of Honor will be holding two PPV's on all United States cable and satellite PPV providers. They aren't sure if the deal runs over into Canada, but if you are a Canadian viewer you can still buy the event on iPPV on uStream as ROH will be doing simulcasts. The second PPV is expected to be Final Battle 2014 which is ROH's biggest event of the year.
ROH have moved Best In The World from Saturday to Sunday because Sunday is the, "traditional PPV day", and if you have a ticket for Best In The World it will still apply on the Sunday. If you can't attend/would like a refund, you can contact ROH via their email which can be found on their website.
As long as things go smoothly with Global Wars and War of the Worlds, events between Best In The World and Final Battle, such as the annual Death Before Dishonor and Glory by Honor shows will be available on uStream only.
Bauer said that ROH will be making big investments into production ahead of Best In The World, such as lighting and acoustics. He also said that this is only the start and that the company is determined to keep taking these big steps forward and are already looking toward the next goal.
(Source: F4WOnline.com)