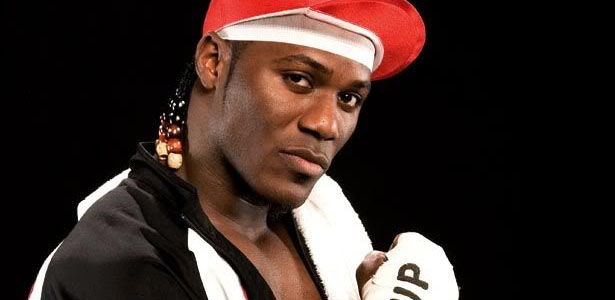 Former WWE and TNA Superstar Elijah Burke aka "The Pope" D'Angelo Dinero recently took some time to participate in an exclusive interview with PWMania.com. Burke talks about what he's been up to recently, his time in WWE, Vince McMahon, CM Punk, The Undertaker, Chris Benoit, TNA, what's next for him and more. Check out the complete interview below:
First of all thank you for taking the time to sit down with PWMania.com. What have you been up to recently?
Just on the grind Daddeh, as you've probably witnessed recently me appearing on network TV shows here and there, attempting to land bigger roles in the near future, and on feature films. So it's one thing after another, but I'm always on the move to conquer my next goal.
What has been the most satisfying moment of your career thus far and what do you aspire to do in the future to top it?
Well I think for any wrestler the most satisfying moment would be appearing at Wrestlemania, in which I believe I partook in wrestling in front of the second largest crowd up until that point, and maybe to this day…But, I would think aside that my greatest moment was to wrestle one of my two childhood hero's being Ric Flair on ECW. Words cannot describe that feeling.
You were involved in working with the Sheriff's Office and getting your degree with honours in criminal justice. Were you always interested in the law and did you think that that might be your career long term when you were younger?
No, I never thought I'd be an officer as I ALWAYS thought I'd be a wrestler, so much so that I started practicing and signing my autographs in the 5th grade. It was at that time that I starting singing my name with a backwards "E" and went on to do the same once I started signing autographs as a wrestler.
You performed at a couple of WrestleMania events. How different did you find it as a wrestler or performer from performing in the likes of WWE's ECW and OVW to then going in front of a reported 80,000 fans?
It was absolutely crazy. It felt like time stood still. It was Truly a dream come true. If you go back to that match you may see me on the apron looking away from the ring as I was simply taking it all in and thanking God for the opportunity that so many before me, and many after, may never have the chance to experience.
How was your time in WWE, what was it like meeting Vince McMahon for the first time?
Vince is great. He was one cool cat! Never had a bad experience with him. Anytime you can walk up to boss and say, What's up dawg and give some him some dap, that should let you know what type of man he is. As a matter of fact, when he came out on ECW with the doorag on after Wrestlemania 23…. Take a wild guess who that doorag belonged to???
Are there any funny backstage ribs or stories you can share with our readers?
Well, not really as I never partook in any and certainly didn't want any done on me…..But when you have a guy like The Undertaker who asked to take a look at a previous wound, see's it, then starts demanding that I go get it looked at asap because it's infected and it's not looking good, well, lets just say I went into complete worry mode. haha
You competed against Chris Benoit in his final match at the SmackDown tapings before Night of Champions in 2007. Just how big a shock was it to the locker room on the night of the PPV as everything was unfolding and after?
I don't know about that… I was kept from the PPV for precaution as my back almost exploded from Benoit's flying headbutt that precious Tuesday. Chris came from a different direction which caused me to have to bring my knees above my head, which in turn raised my lower back up off of the mat and placed all of my weight on my shoulders and upper back, so when Chris landed on me as solid as he was, it felt like my back exploded. I have NO IDEA how I finished the match as I couldn't walk once backstage.
Were there any plans for you during your time in WWE which didn't go ahead?
Well, we can always say yay to such, but I'll just go with the sure bet, and that was the introduction of The Black Pope.
Was there any main reason to your WWE departure? Would you consider returning to WWE if the opportunity arose?
No main reason for departure except with all of the creative changes, writers switching from brand to brand, I kinda got lost in the shuffle. "Black Thursday" came and almost 15 wrestlers got let go. It was their call, I wasn't in any program or being used as I was in a rebuilding faze. I look forward to returning to the WWE when the time is right for both parties, and hopefully that will be sooner than later.
After your release from WWE you were signed by TNA, where you had The Black Pope, D'Angelo Dinero character. Where did that come from, how different was it from WWE and how was your experience with the company?
Obviously The Pope character came from myself and was just an extended version of myself. It was crazy because in my last 6months or so with WWE everyone was already calling me Pope or Black Pope. I enjoyed my time with TNA as they gave me the ball and allowed me to run with it. What was really awesome was that Pope was NEVER scripted as Vince Russo allowed Pope to be Pope and would literally say, "Nobody knows what Pope would do except you." I enjoyed working with him and others in TNA.
What lead to your departure from TNA, would you consider returning if given the opportunity?
No specific reason per se. Pope thanked Dixie for his time and just didn't resign with the company.
What were the comments that went around from CM Punk about you and do you have any thoughts on the current CM Punk and WWE situation?
Never heard them… People mentioned it to me via social media, but I have no thoughts on it. EVERY thought that I ever had about Phil, he knows them because I told him to his face, and I'd like to think that he'd do the same, but I have no thoughts or comments about what was or may have been said. What would that say about me to say something behind Phil's back or in an interview where he can't respond for himself?? I mean, what type of person would do such a thing?? Not I, not Pope.
What mistakes do you see young wrestlers making either in the ring or backstage that could be affecting their reputation or work?
What I see often is the lack of story telling…Wrestlers doing moves for the sake of doing them. One should always find out what the story is that we want to tell in the ring, because the overall story should dictate who or what moves are being done in the ring, and sometimes that may mean that one party may not get a chance to perform his/her signature move(s) or a move at all. But that's ring psychology for ya.
What's next for The Pope Elijah Burke?
The simplest way to answer that is by saying, you'll just have to wait and see. You can always keep tabs on Pope and where my next shows are by checking my website TheElijahExpress.com or by following me on Twitter @DaBlackPope and Facebook.com/ElijahBurke.
Everyone here at PWMania.com wishes you the best of the luck for the future. Thanks again for taking the time to sit down with PWMania.com. Do you have any final messages to say to our readers?
Just keep an eye out for YOUR Pope because when you least expect it, THAT'S when Pope will appear… AGAIN! ~PHS