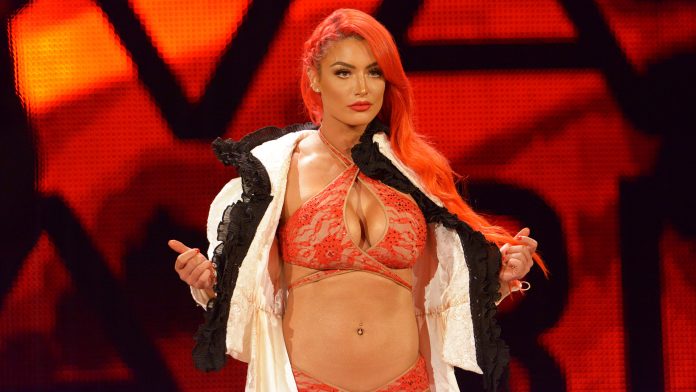 Natalie Eva Marie is no stranger to reality television after appearing on the first six seasons of Total Divas — from 2013 through 2016. However, the purple-haired bombshell found herself in a ring of a different kind surviving competitions and eliminations each week on Season 2 of Celebrity Big Brother.
The pro-wrestler-turned-actress' run came to an end with her and Tom Green leaving the residence during an eventful double eviction night on Friday. In an interview with TV Insider, Marie reflected on her time on the show and revealed that she's had talks with WWE on returning since her departure in August 2017.
When asked if she's been approached about returning to WWE since she left and if she was asked to appear at the Royal Rumble, Marie said, "There has been emails and talk and exchanges back and forth. But no, I was not approached about being a part of the Royal Rumble. I can tell you that. Other things, there has definitely been talks for sure."
Marie was asked if she feels motivation to return to WWE based on the success that stars like Becky Lynch and Ronda Rousey are having.
"Sure. I'm always going to have that itch. I absolutely love wrestling. You never know. It's one of those things where things have totally taken off for the women of WWE. They are killing it right now. I think it's so amazing. Of course, if the opportunity arises and the timing is how it's supposed to be, I definitely would come back to shake things up because I can always bring the heat. That's for sure," Marie said.
Marie also talked about disconnecting from social media during the filming of Celebrity Big Brother.
"It was amazing. A lot of my work is definitely social media based. Even though being in the house is highly stressful. We're doing a lot with the competitions, figuring out who to trust and all of these other things. But being able to not have your phone and have actual conversations with people, really be still with yourself, it was truly amazing," Marie said.
"I've only been out of the house for 12 hours or so now, but I'm going to definitely going to try to apply that into daily life now and not be so connected with my phone. I don't know if there is a correlation between the phone usage or because I'm happy doing this experience and feeling good from that. I'm really proud of myself for being mentally tough through it all. Not really having breakdowns or anything like that.
"I hope I can now use my phone at certain times. Hope I can have longer conversations with friends or my husband or read a book instead of spending so much time on it."