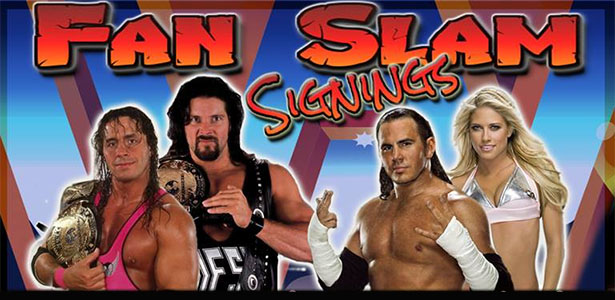 FAN SLAM SIGNINGS BOOKING BODYSLAMMIN' BIRTHDAY PARTIES, PPV PARTIES, BUNDY NIGHT RAW PARTIES, AND MORE!
Fan Slam Signings is now offering personal appearances, Bodyslammin' Birthday parties, PPV parties, Bundy Night Raw, and more.
Having or planning a Birthday party and want to do something unique and different? Fan Slam Signings now offers BODYSLAMMIN' BIRTHDAY PARTIES! Can you imagine King Kong Bundy cutting your cake? "Superfly" Jimmy Snuka taking a birthday picture with you? A birthday kiss from Sunny??! For further information on how you can book your very own BODYSLAMMIN' BIRTHDAY PARTY, please visit the Birthday Parties section of FanSlamSignings.com or Email us at BirthdayParties@FanSlamSignings.com.
Do you and your friends get together for wrestling PPV's every month? How cool would it be to throw a big PPV party and have a Wrestling Superstar there to hang out with you and your friends?! Now it's possible through Fan Slam Signings. We can make your childhood dreams come true! Email us for further info at PPVParties@FanSlamSignings.com.
If you live in the New Jersey area, you and your friends can have your very own BUNDY NIGHT RAW party on a Monday night and watch wrestling with KING KONG BUNDY! That's right. King Kong Bundy will come to your party and hang out and watch wrestling with you and your friends. For further info on how you can book a BUNDY NIGHT RAW party, Email us for further info at BundyNightRaw@FanSlamSignings.com
If you're a business looking to bring a Wrestling Superstar to appear at your next event, promotion, or grand opening- please visit our website at FanSlamSignings.com.
Please keep continuing to check back at FanSlamSignings.com and Facebook.com/FanSlamSignings for more unique opportunities for fans to rub elbows with the Superstars of Wrestling!