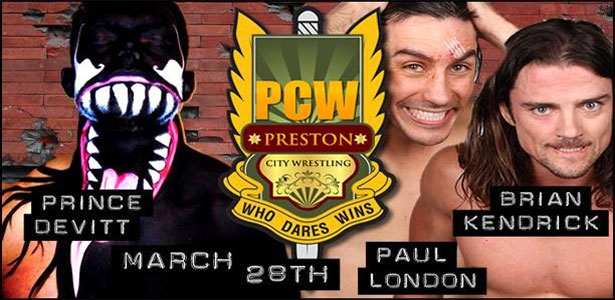 Former WWE Tag Team Champions Paul London and Brian reunite this coming weekend to challenge Rampage Brown and T-Bone for the PCW Tag Team Championship at Preston City Wrestling's Who Dares Wins event.
The show, which takes place this Friday, March 28th at Evoque on Church Street in Preston, Lancashire, is the latest in a string of high-profile shows for the UK-based promotion. Thanks to their combination of homegrown talent and international stars, PCW are fast earning a reputation as a company whose events are a regular highlight of the UK pro wrestling calendar.
Over the coming months, a wealth of world-renowned wrestlers such as Low Ki, Terry Funk, Juventud Guerrera, Vader, Al Snow and others will all be featured in action. Though before all that, it's the turn of London & Kendrick to do battle inside the PCW ring.
The card also features NJPW star Prince Devitt taking on Sheffield's Kris Travis, PCW's annual 30 Man Rumble and April Davids vs. Bubblegum for the PCW Cruiserweight title.
The full card for Who Dares Wins is as follows:
30 Man PCW Rumble – Winner gets TBA
PCW TAG TEAM CHAMPIONSHIP
Team Single v Paul London and Brian Kendrick
Allmark and Dynamite v Fight Club
Devitt v Kris Travis
PCW CRUISERWEIGHT TITLE
April Davids v BubbleGum
WHO DARES WINS – WINNER #30 IN RUMBLE AND LOSER #1
Mastiff v Ligero v Hope v Hayes v Dar v Kirby
Ticket information and other details can be found at www.prestoncitywrestling.com