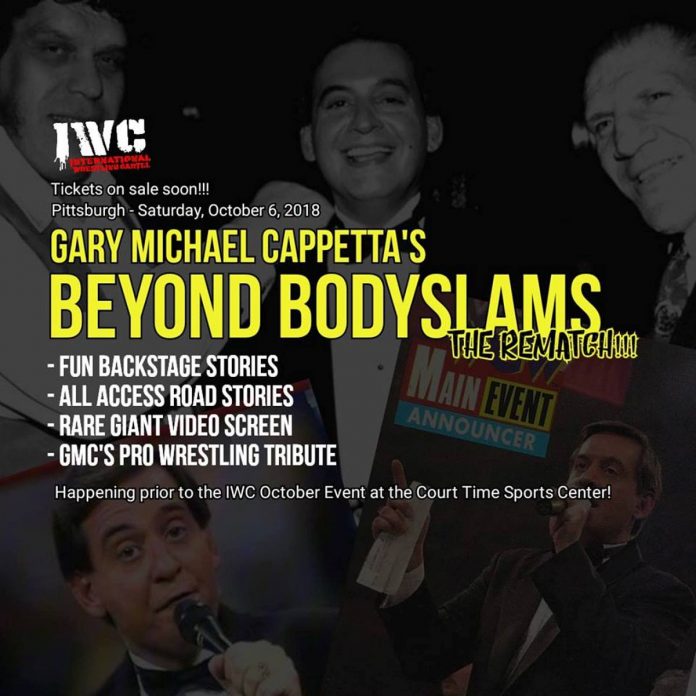 The legendary Mick Foley's New York Times #1 best-selling autobiography, "Have A Nice Day" began with an incident that could only happen in the professional wrestling business. Under his Cactus Jack persona, Foley was treading water in Ted Turner's World Championship Wrestling in the middle of the slump of the industry of the early 90s, attempting to make a name for himself through a series of risky maneuvers. As Mick detailed in the pages of his famous book, his already injured ear was further damaged when his head became stuck in the tightened ring ropes. As Foley collapsed onto the outside of the ring with his head finally free, the referee picked up the now-missing ear and passed it to the unsuspecting ring announcer, Gary Michael Cappetta. Usually, Cappetta never left his place at ringside, as he was responsible for time cues and promptly declaring the winner of each bout, but on that night in Germany in 1994, the booming voice of WCW took the grappler's ear to the dimly-lit backstage area to find a way to preserve it so that it could be reattached to Foley's head. The piece of flesh that resembled uncooked chicken had hair and tape dangling from it before Cappetta showed it to then-booker, Ric Flair. As the story goes, Mick didn't get his ear reattached, but it was certainly a notable effort from Cappetta to transport the flesh from the ring to a bag of ice in the locker room.

This unbelievable tale of the missing ear is only one of the very unique memories that Gary Cappetta has from a career that spans nearly five decades, and this Saturday, he plans to bring his critically acclaimed stage show to the Pittsburgh area in association with the International Wrestling Cartel's "Unbreakable" event.
"Beyond Bodyslams!" is the second edition of Cappetta's live event after a successful tour last year. Described as an emotional roller coaster for its variety of memorable and genuine stories, Gary takes the audience behind the curtain to hear his unique perspective of the very unique sports entertainment industry. "The Rematch" gives him a chance to tell more stories from the times he shared the ring with legendary performers from different eras of professional wrestling. After he became a ring announcer by mere coincidence when he attended a show that needed someone to make the introduction of the competitors in 1974, Cappetta has decades worth of stories to share with fans, which is what he considers his favorite part of his stage show.

"Interacting with the fans, I've always had a great rapport with the fans. I developed a rapport with the fans when the cameras weren't rolling when I would work live events in venues around the world. The ring announcer is always the most accessible to the fans and how you use that time will determine how close you are with the fans. I didn't pretend to be any kind of star, I was a regular guy, I was a fan. The emotion I brought to my announcing came from my heart," Cappetta explained.
The genuine enthusiasm the one known as "The World's Most Dangerous Ring Announcer" brings to the stage is very reminiscence of the energy he brought to the mic when he introduced some of the biggest stars in the history of the industry. After years surrounded by the glamour of sports entertainment, Gary's "Beyond Bodyslams!" has its own element of showmanship with music, props, and a video screen to allow for additional context to his stories.
Cappetta's stage performance has received rave reviews, and each event offers its own atmosphere for those live in attendance. During a recent show in Chicago, the late Brian Pillman's son, who is now a wrestler himself, joined Gary to discuss his father's legacy. The second generation loose cannon considered it a wonderful occasion for everyone involved.

"It was a truly magical experience . The fans at the event were some of the most knowledgeable people I've met. You can expect to learn more about the history of wrestling than you have ever known," Brian Pillman Jr. said.
This Saturday will be a special night for Cappetta, and will include a tribute to a Pittsburgh icon, Bruno Sammartino. A record-setting world champion, Bruno's impact on the region and the world was passed down through generations. As a part of the performance, Gary plans to illustrate Sammartino's greatness by featuring several magazine covers that showcased the Italian strongman throughout the years. Bruno will always have an important meaning to Cappetta.

"October 6th is Bruno Sammartino's birthday, and Bruno was my hero when I was a kid. I'm paying special tribute to Sammartino on his birthday. It wasn't planned, it just happened and I realized, I was at Bruno's funeral, and I was driving back from the funeral and I realized the date we had selected to coordinate with IWC's schedule so it really wasn't planned. I will be paying tribute to Bruno and how he influenced me. I'm going to take a step-by-step look at how he was able to connect with the fans on a very personal level. He went from being a hero to being my friend," Capetta said.
Even after nearly 45 years around the wrestling industry, Gary still watches the sport and still considers himself a fan. A native of the New Jersey area, he taught Spanish when he wasn't on tour with a national promotion. Today, Gary will regularly attend independent events, and even offers feedback to the next generation when asked as a way to give back to the sport. This weekend will be no different, as he's looking forward to the International Wrestling Cartel's live matches.

"IWC is very excited to host GMC's Beyond Bodyslams! We partnered with him last year and thought that his show was so good that we offered to do a joint event if he ever came back to Pittsburgh. Ultimately, that led to our big event on October 6th at Court Time Sports Center. If this show is even close to as good as last year, we are in for a treat. But, I hear that it's going to be even better with a deeper look behind the scenes of many classic moments. Unbreakable will take place immediately after Beyond Bodyslams, and we are going all out to try to keep our sellout streak going," IWC promoter, Justin Plummer commented.
"Part of my stage show is about indy wrestling and the importance of supporting indy wrestling because if you care about the future of the industry, you need to support those that are training to be the stars of tomorrow," Cappetta remarked.
Along with the tales of luminaries such as Gorilla Monsoon, Bruno, Dusty Rhodes, and others, Cappetta plans to tell the story of traveling with Mean Mark, who later became The Undertaker. After a week on the road with the future phenom, Capetta will recount a confrontation between Mean Mark and a disgruntled foe from years earlier.
"Beyond Bodyslams!" is guaranteed to be an entertaining show about many memorable characters, but perhaps the most impressive aspect of the event will be the genuine enthusiasm that Gary Michael Cappetta brings to each performance and the passion that he has for the professional wrestling industry.
For ticket information, you can go to https://www.eventbrite.com/e/gary-michael-cappettas-beyond-bodyslams-the-rematch-tickets-47498233495
For information about the IWC Unbreakable event, you can go to iwcwrestling.com
What do you think? Comment below with your thoughts, opinions, feedback and anything else that was raised.
Until next week
-Jim LaMotta
E mail drwrestlingallpro@yahoo.com | You can follow me on Twitter @jimlamotta