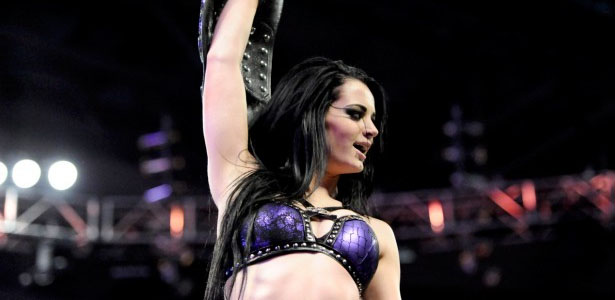 Let me talk to ya, I've been avoiding this article for awhile. I'll always talk about the Divas' Division, but I've been avoiding how to talk about the Bellas vs. McMahon feud because I genuinely do not enjoy ranting, raving and writing highly negative articles about wrestling. I am proud to say that the Divas' Division is one of the key reasons I tune into Raw every week. I realize a lot of people don't feel that way and that is fine, but their perspective is different from mine because they don't see the value in the division anymore. The running joke is that it's a bathroom break, or beer run match. I'm not going to say that I'm always 100% in-tuned with the segment, but that isn't any different than any other on a weekly basis. I see a lot of value because I see a ton of talent that is going to paint a very good picture over the next few years of WWE programming. This Sunday, we're going to have two big Divas matches on the Summerslam card. We have AJ vs. Paige which has been wonderful, and we have Brie Bella vs. Stephanie McMahon. Like anything else in this industry, we take the good with the bad. Again, I'm going to do my best to not point fingers, or push blame anywhere, but I've avoided this column for a while now because I didn't want to spread my own crap around too much. I have to write something down on paper, and I have to get my hands a little dirty before Summerslam. I'm just going to state blunt realities about what I see, and if you think I'm right, that's great. If you disagree, that's fine. My goal here is to be neither. I want the Divas Division to become more important in the eyes of more fans than ever. I feel like that isn't happening right now, and I think it's time to air some of this stuff out, so some of us can look closer at what is really happening.
This is what it should all be about, right? The Divas of WWE have a huge disadvantage when it comes to selling their product. They don't get to have gimmick matches often, or midcard titles. There is one goal every active Diva should have, and that is to be the champion. It is the only position of real power that the division has. It's a tough spot to be in because in order for the division to work, the championship needs to be valuable. Therefore, the champion needs to be valuable, and I bolieve that AJ Lee is the best Divas Champion of the last decade. I don't think that is a debate, but I can prove this point very easily. Remember in 2012 during the Punk/Bryan feud, how over AJ Lee was with the crazy chick gimmick? AJ was the hottest person on the roster which included the WWE Champion and anyone else at the time. I can't think of another Diva who has ever done that. My point is that AJ defines a decade of women's wrestling in WWE. She is the top hand of women's wrestling right now, but she has to play second fiddle to Bella/McMahon on the second biggest show of the year. I understand how these things work. I get that the Bellas sell and who both are respectively in relationships with, but that is what they have. Is anyone going to argue with me that Brie Bella is in this feud with Stephanie because she is the best one for it? I'm not trying to dump on Brie Bella, but the reality is that Stephanie has carried most of this feud by herself. What has Brie done besides call Stephanie a bitch a few times. A lot of the people engulfed in this feud hate Stephanie, they don't love Brie. Anyone could play Brie Bella's role here, but it just so happens that Bryan was in The Authority storyline, and Brie just happens to be in love with the right guy at the right time. I think it is a good story that only works because Stephanie McMahon knows what she is doing as a heel. She's not a wrestler. The build is where she is going to thrive. That would be one thing, if Brie could carry the match to a high level. I hope I'm wrong, but Brie just isn't good enough to carry a non-wrestler to a high level. The in-ring work doesn't matter sometimes. Austin/McMahon was sloppy as hell, but the story was great. Brie/Stephanie is a good story because of what was there before, not what is being created. It's cheap storytelling. Not because it plays the obvious, but because almost no work went into creating it. The angle was just sitting there to keep Daniel Bryan's spirit alive through Brie while he is injured. No one should have a problem with Brie getting the rub off her husband's talent, but some fans need to acknowledge that this is what is building Brie Bella. Not her ring work, certainly not her mic skills or overall persona. Her build is coming from her injured husband, and the heel work of Stephanie McMahon. She's the luckiest Diva in the world right now.
That is literally what is happening to the division right now. Stephanie is making it look bad because she's going against the wrong person. It really should be AJ vs. McMahon. There have been two main event segments that Stephanie has dominated on the microphone. All the while, Paige's transcendence into the next big heel in the division is flourishing. AJ and Paige work so well together because their feud is about being the best. At Wrestlemania 30, AJ defeated every single active competitor in a single match. The next night, Paige defeated AJ one on one for the title. If AJ can beat the entire division in one match, and Paige can beat AJ clean, then Paige is the best female wrestler in the world, right? A few months later, AJ returns and takes the throne back only to awaken Paige to truly challenge her for the keys to the kingdom. It's a good story that is really about who is the best. It is classic wrestling 101. Despite that fact, McMahon/Bella gets to main event Raw two weeks in a row because Brie is feuding with a McMahon. The Divas title that should be the apex of the division is taking a backseat. I'm not saying to get rid of anything. I just want people to acknowledge certain truths. Such as the fact that Bella/McMahon is getting more time, and more exposure than the championship. There is a place for both stories, but not at the expense of the title. That is why a lot of people look at the Divas' matches as a beer run. The title hasn't been treated properly for a long time. Not even AJ has been so fortunate. Look at Wrestlemania 30, the AJ vs. The World match that was the high point of the division was the pallet cleanser between Brock Lesnar breaking The Streak, and Daniel Bryan FINALLY winning the championship. You must see how much that sucks for them. I sure do.
There is too much talent in the division right now to pander to sub-par talent that are where they are because of how they look (Eva Marie), their bad attitude (Cameron), or even their personal lives (Bellas). There is better talent that is coming up through Sara Del Rey's magnificent work behind the scenes who are going to blow a lot of the ladies out of the water. NXT is flourishing with Charlotte at the helm. Bayley, Becky and Sasha Banks are all solid hands. Natalya is killing it with Tyson Kidd. Paige is only 22. Naomi, Fox and Tamina are okay talents. Despite having trouble behind the scenes, Emma is just waiting for some time to wrestle. Emma vs. AJ would be really fun too. Women's wrestling in WWE is turning for the better, but it's things like Total Divas and Brie vs. Stephanie that are holding it back because it is about look and not the substance. Wrestling fans notice EVERYTHING, and if we really don't like something as one, we'll kill it, or ignore it until it goes away. Those beer runs at the events go into the pockets of the venue, not WWE.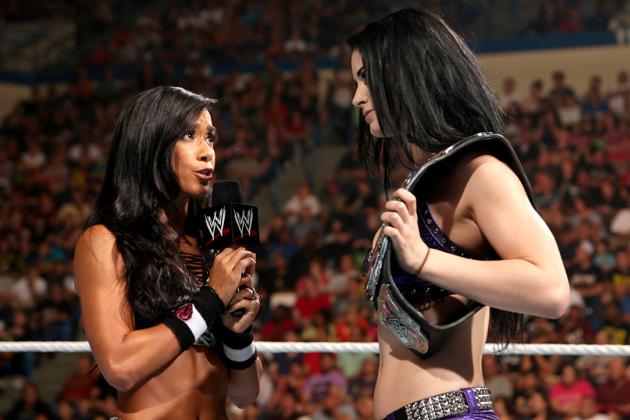 Maybe, we get a Nikki heel turn and it is Bella vs. Bella and then everyone can see what they really all. The fact is that the bar is being raised right now in women's wrestling. Over the next few years, a lot of fat of the division in WWE is going to get trimmed off as the product gets better, and new talent comes in. There are a ton of better female wrestlers outside the WWE, and if there was a division good enough for them. They would come to be a part of it. The pieces are there to build the division to be better than Lita, or Trish ever had it. Actually, THAT is what the division really needs. It needs a Lita. Not Lita per say, but the spirit of Lita. Think about how the wrestling in the division really is. A ton of on the mat, submission and general stuff. There isn't a high flyer to provide any explosiveness to matches. All Divas wrestle the same in the division, and a female wrestler who was willing to take risks would make a killing right now with the audience. The division needs something different to watch. These kind of ideas are what is lacking in the division because the powers that be are content with Stephanie making the division look stupid on the mic while the Divas title and best wrestlers get less exposure. I think everyone needs to try harder to make it feel important. I think women's wrestling can be something that everyone would tune in to see every week. I think it is being held back. I think Stephanie needs to win at Summerslam. I think this year's Wrestlemania has AJ vs. Stephanie. I think that is the biggest match possible within the next six months, and the best should be able to showcase their best on the grandest stage of them all. Show me that feud, and talk to me about women's wrestling being boring.
What do you think? Comment below with your thoughts, opinions, feedback and anything else that was raised.