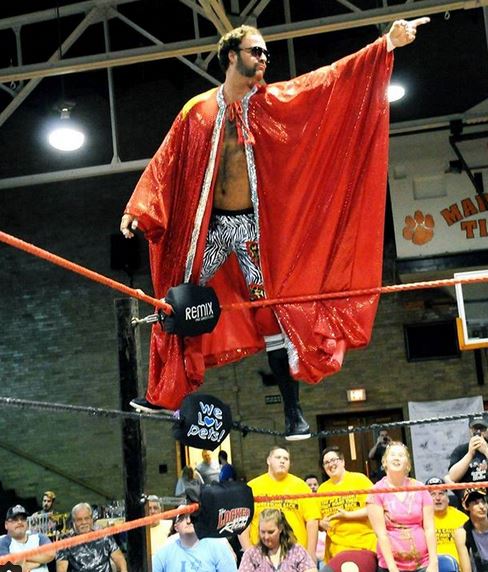 By 2009, Chris Parsons found himself on a friend's couch, ill and unemployed. The aspiring grappler spent a few years prior to that driving a beat up Bonneville around the mid west to chase the professional wrestling glory that he saw as a child. Growing up in extreme poverty, resources and family support were limited. In his mid-20s, Chris was virtually homeless and struggled to find direction in his life. Once he recovered, he worked night shifts and enrolled in his local community college, determined to get himself out of the slump.
After he picked himself up, he found a local theatre troupe and joined, drawing from the experience he had on stage from his time in the genre in high school.
"Theatre came to me in my senior year of high school. A theatre teacher needed males in her shows and she saw my natural timing and ability. I did a few shows senior year and then I did a few plays in college as well. I had a really great community theatre in my home town and I got in there around 2009. After a few plays, they announced auditions for The Rocky Horror Show. I remember that 7-11 had a promotion at the time where you could get WWE plastic cups and on my way to the audition, I grabbed a Roddy Piper cup. My knees were literally knocking as I sang my song. I glanced down at Piper and sang even louder. That weekend I was cast in the lead role as Frank N. Furter," Chris said.
HOT ROD@R_Roddy_Piper pic.twitter.com/ViaJ368dCt

— MAGNUM CK (@TheMAGNUMCK) March 5, 2018
The "Rowdy" Roddy-inspired audition provided a sense of accomplishment and stability for Parsons, and his teachers thought enough of his skills to recommend that he pursue the stage further. About a year after he began his venture into the small local stage, he invested himself fully into the art form, moving to Chicago, a city known for its ability to provide hopefuls with a chance to be discovered. Once he arrived in the Windy City, Chris studied at the famed Second City comedy company. Alumni of the group read like an all-star team. Names like Farley, Belushi, Candy, Colbert, and many others that went on to impact show business honed their craft under the Second City banner.
"I lived in Chicago for a few years and studied improv at Second City. That opened me up to working with other performers so much. Also, if you can stand up in front of hundreds of comedy fans with no script and make them laugh, you can do anything. After leaving wrestling, doing tons of theatre, and then stepping back into the ring, it all clicked. I remember standing in the ring on my first match back in 2016 and it was like wrestling is theatre. This ring is a stage. After that, it all seemed so much easier."
After dozens of roles for stage productions, including Young Frankenstein, Hair Spray, and All Shook Up, Parsons decided to move back to his hometown in Ohio, but another production soon played a major role in his path back to the ring. His friend and filmmaker, Mike Rhodes planned a feature about professional wrestling and requested his help with the project.
"He heard I was moving back to Ohio and he hit me up for a 45-minute film he was interested in making. We made a few fun film projects and then decided that a short, 10-minute documentary about a local wrestling group would be fun. The night we had the idea, it snowballed into a multi-city, full-length documentary that ended up including Stan Hansen, Ric Flair, Ruby Riott, EC3, and many more. We chronicled wrestling fans and wanted people to tell their stories. What we ended up with was a fun, full-length, one of a kind doc," he explained.
The documentary titled, "Marking Out" reignited a passion for the ring, a place Parsons spent nearly seven years away from before he took the leap to pursue it again. However, this time, a much healthier, stable, and confident performer laced up the boots in 2016.

"My wife, Alexis, saw the passion in my eyes when I talked about wrestling. As we started making Marking Out, she saw the the passion for wrestling that I had held down for so many years. She started asking me about why I left wrestling originally and then she pointed out that my life situation had changed drastically for the better, I was still young, and there was no reason why I couldn't make a run for it. I ordered new boots and tights, contacted Adam Johnson from Remix Pro wrestling, and within 20 minutes, I had set up my return to the ring for my 30th birthday. Alexis has supported me every step of the way and I can not believe how far the last two years have taken me," Chris recalled.

A dedicated fan of the NWA as a youth, Chris idolized many larger-than-life personas of the 80s. In fact, one of his first wrestling VHS tapes, a grainy collection of Ric Flair bouts, eventually unraveled after it was viewed hundreds of times. Blending his passion for throwback professional wrestling and his skills of the stage, Chris formulated a new character for his return to the ring. Magnum CK was a flashy, over-the-top villain that was so devious that even the legendary Andy Kaufman would be proud of his underhanded tactics in the squared circle.

Most importantly, Magnum CK was entertaining to the audience and not long after he emerged back into sports entertainment, fans and peers took notice of his ability on his new stage. Soon, he began to get offers to compete around the tri-state area and spent the remainder of 2016 building his new persona as a performer to watch evolve with a renewed sense of purpose in the ring. His success continued the following year and he had the chance to expanse his resume to another country when he debuted in Canada. He also made progress on his home turf, debuting in a role almost custom made for him. Absolute Intense Wrestling, Ohio's most well known independent promotion, put together "The Production," a stable of villains that used classic theatre as their inspiration in the ring. Along with Derek Direction, Frankie Flynn, and Eddie Only, Magnum CK brings a unique brand of entertainment to the diehard AIW fan base.

"I was so nervous that the AIW audience may be skeptical but they immediately took to me and they have become my favorite crowd on earth! We have done nothing but evolve since. AIW has become my home and I could not be more proud to represent their brand. Absolutely my favorite place of all time."
Despite the rave reviews from the ring to the stage, Magnum CK remains humble and appreciative of the opportunities a stable life brings him. Aspirations of work in Dave Marquez's Championship Wrestling from Hollywood, and even as far away as Japan keep him motivated to make ever performance memorable.
"I absolutely love pro wrestling, but it is not my right; wrestling is a privilege and I treat it as such. I was raised to respect wrestling and all of the people in it and all of its fans. I will spread my positivity, hard work, and unique brand of wrestling as far and wide as I can until I can't do it anymore. I positively adore wrestling and don't know what I'd do without it. But I am sure I will figure out something when my time comes to an end," he said.
From the time he began in wrestling as a young dreamer in 2004 to his performances on the stages of Chicago, Chris Parsons took a rocky, but enlightening personal journey toward the persona of Magnum CK. More than anything, the entertainment of CK is a representation of a determination to grow as a performer and a person. It's quite ironic that the hallowed halls of the Second City Company led Magnum CK to the stage of the squared circle for a performance on the canvas.
What do you think? Comment below with your thoughts, opinions, feedback and anything else that was raised.
Until next week
-Jim LaMotta
E mail drwrestlingallpro@yahoo.com | You can follow me on Twitter @jimlamotta