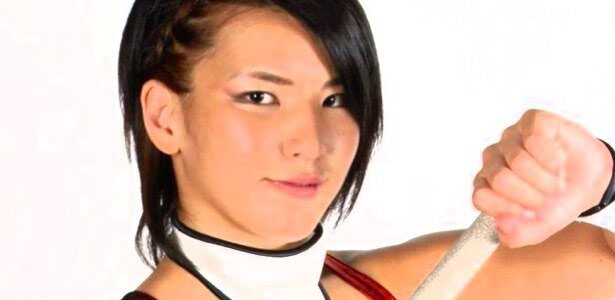 Hikaru Shida arguably one the most successful young Japanese female wrestler in all of Japan competed for various wrestling organization such as REINA, Ice Ribbon, OZ Academy and Pro Wrestling WAVE. Hikaru Shida did not started at first being a professional wrestling, she was an inspiring actress; whom was introduce to professional wrestling while filming the movie Three Count. Hikaru Shida shortly began her training and immediately feel in love with professional wrestling.
"Hikaru Shida in October 2011, along with Emi Sakura, Fujimoto & Hikari Minami – traveled to Nottingham, England for the well-received Pro Wrestling: EVE v Ice Ribbon shows, as well as wrestling an exhibition tag match for Southside Wrestling Entertainment. Hikaru Shida wrestled Alpha Female, Kay Lee Ray and fellow SHIMMER debutante Nikki Storm in inter-promotional matches, and picked up a bunch of new fans in the process" (Credit: RingBelles 2013).
Hikaru Shida popularity started rising and the 25 year old Japanese Superstar had a very successful 2013, holding Tag Team Championships in four different promotions. Frist, Ice Ribbon Promotion, she held one half of the International Ribbon Tag Team Championship alongside Tsukasa Fujimoto, and also held the REINA x WORLD doubles straps with her Muscle Venus partner. Hikaru Shida held the OZ Academy Tag Team Championship with Aja Kong; also held Pro Wrestling WAVE Tag Team Championship with Yumi Ohka. This all comes off the back of an equally strong 2012, where Hikaru Shida represented her home promotion as the ICEx60 (now ICEx∞) Champion, winning the belt at RibbonMania 2011 and holding the championship for a record 273 days before losing it to Mio Shirai in her fourth championship title defense in September 2013 (Information Credit: RingBelle 2013).
Hikaru Shida in Mid-2013 was announce as the fourth Joshi competitor, whom will be making their debut for Shimmer Women Athletes in Berwyn, Illinois. Hikaru Shida make quite an impression with Shimmer Women Athlete fan base and competitors, leaving behind memorable moments and lasting friendship.
Pro Wrestling Smark Talk recently conducted an interview with this amazing young Japanese female competitor Hikaru Shida via gmail, discussing various topics such her career, Japan, and competing for Shimmer Women Athletes.
1). Hikaru, what inspired you to get involved in the wrestling industry and where did you go to receive your training to become a professional wrestler?
Hikaru Shida: "All of my original training was done at Ice Ribbon DOJO. I actually never knew much about wrestling before my training and only thought I'd use what I'd learned for the filming of my movie, "3-Count". My inspiration to continue came after. It was so fun to me, I didn't want to quit"!
2). Hikaru if possible describe your training; according to various sources Japanese Women experience more physical and mental training than their male counterparts.
Hikaru Shida: "There were easier days that were less physical but some days we trained 3 times a day. I'd say it was a good balance. It was tough, but none of us were ever seriously injured. But of course, they're DOJOS where the training is much more physical and scary".
3). Hikaru describe the very first time you competed in professional wrestling match.
Hikaru Shida: "It was a bad experience that I remember mostly because it sucked so badly".
4). Hikaru you competed for various wrestling promotions in Japan such as Ice Ribbon, REINA, OZ Academy and Pro Wrestling WAVE. Describe your most memorable match from each promotion?
Hikaru Shida: "Ice Ribbon: My match with my mentor Yoshiko Tamura, Oz Academy: A singles match I did with Mayumi Ozaki, Pro-Wrestling WAVE: The 2013 Dual Shockwave Tag Tournament finals, Hikaru Shida/Tsukasa Fujimoto vs Ayako Hamada/Yuu Yamagata vs Yumi Ohka/Kana and REINA: Hikaru Shida/Tsukasa Fujimoto vs Aki Kanbayashi/Mia Yim".
5). Hikaru last year you made your debut for Shimmer Women Athletes, how did you come about getting an opportunity competing for Shimmer Women Athletes?
Hikaru Shida: "To be honest, I don't know how it came to be. Suddenly I just had an offer! So being overly excited, I didn't really think about it. I just said, "Awesome, let's go!"
6). How would you describe the difference between Japanese Wrestling Fand and US Wrestling Fans?
Hikaru Shida: "American fans are always very energetic and aren't afraid to cheer for who they like. Japanese fans are a little shyer and sometimes need to warm up before getting excited".
7). Describe your favorite moment during your Shimmer Women Athletes weekend and which match you enjoyed competing the most?
Hikaru Shida: "My favorite moment was being able to meet the fans from America. I couldn't believe how many people came to support me and say "hi" at the merchandise tables! Before I knew it, all of my goods were sold out! It was a great feeling. As for my favorite match, it was probably the "Kendo Stick Match" against Nicole Matthews".
8). Which Shimmer Women Athletes Superstar completely blow you away by their skills and wrestling technique?
Hikaru Shida: "It was either Saraya Knight or Madison Eagles".
9) Hikaru do you have any plans returning to Shimmer Women Athletes in 2014? If so which superstar you would love to compete against?
Hikaru Shida: "I do, and I'll be back April 5th, 2014 in New Orleans and April 12th, 2014 in Berwyn, Illinois. My hope is to face whoever the Shimmer Women Athletes Champion is at that time"!
10). Hikara how can wrestling fans reach you through social media?
Hikaru Shida: "Twitter:@shidahikaru and Facebook: shida hikaru".
If you want to read more articles from Pro Wrestling Smark Talk please go to our blog page www.prowrestlingsmarktalk.blogspot.com.