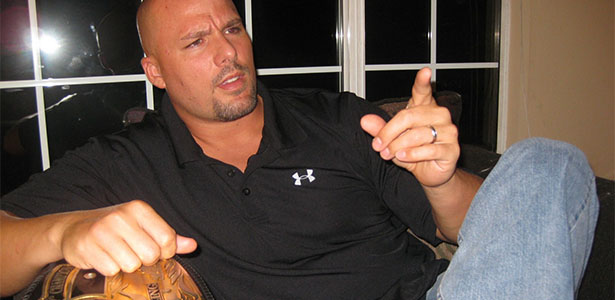 My name is Nathan Favel and welcome to the first ever Indy Wrestling Spotlight exclusively on PWMania.com! This regular report is dedicated to unearthing some of the best independent circuit match-ups, featuring the some of the best names of the modern era, from the past, present and future. So, without further ado, let's just jump right in!
* Adam Pearce vs. Adam Cole – NWA World Heavyweight Championship Match –
Time: 3/29/2012
Place: NWA Ring Warriors Battle of the Belt @ National Guard Armory in Fort Lauderdale, Florida, USA
Before Adam Pearce and Colt Cabana had their fantastic Seven Levels of Hate match-ups for the NWA World Title, Adam Pearce worked a title match with Adam Cole. Adam Cole, in the year of 2013, has exploded into the main event scene of a few notable companies, including Pro Wrestling Guerrilla, as its World Heavyweight Champion, and Ring of Honor, as its World Heavyweight Champion. Adam Pearce, on the other hand, made a brief appearance on TNA iMPACT this year and finally got over with the mainstream audience. Since then, he has found a second wind in his career, gaining a much deserved boost in his national profile. So, in honor of their respective successes, lets enjoy a great match-up with two true professionals.
* Ace Steel vs. William Regal – Time: 10/22/2011
Place: World Wrestling League- Night of the Superstars @ Eldon High School Gym in Eldon, Missouri, USA
Despite Ace Steel's retirement from wrestling, he still managed to find the time to have a technical feast with longtime WWE wrestler, William Regal. This match-up, despite being filmed from afar, is nevertheless a masterpiece of intelligent, thoughtful wrestling that all aspiring wrestlers should view. leave it to Harley Race to be smart enough to book something so good.
* Kurt Angle vs. Hiroshi Tanahashi – IWGP Heavyweight Championship – Time: 4/5/2009
Place: New Japan Pro Wrestling Resolution 2009 @ Ryogoku Kokugikan in Tokyo, Japan
A few years ago, Kurt Angle was contractually obligated by TNA to appear for New Japan, due to the contracts language. He didn't enjoy being forced to wrestle without his consent, but he honored his contract and wrestled a series of match-ups in NJPW, including this gem, with New Japan mega-star, Hiroshi Tanahashi. Speaking of Tanahashi, he's gone on to become, in the eyes of many, the number on wrestler in the world, with numerous classics with Kazuchika Okada, one the youngest World Champions ever. This is a hell of a match, so enjoy.
* Motor City Machine Guns vs. The American Wolves – Time: 12/19/2010
Place: 2CW Nightmare Before Christmas @ Pastime Athletic Club in Syracuse, New York, USA
These two fantastic tag teams had a rare dream match that took place for 2CW, a great indy promotion out of New York. I won't waste your time with explanation, so just watch and enjoy.
* Bryan Danielson (Daniel Bryan) vs. Jon Moxley (Dean Ambrose) – Time: 9/26/2010
Place: Dragon Gate USA- The Way of the Ronin @ The Miramar Theatre in Milwaukee, Wisconsin, USA
The WWE's top guy and one of its breakout stars have worked together before, and Dragon Gate USA housed some of that work. If you've been craving to see these two guys let off of their leashes, then this match-up is what you've been searching for.