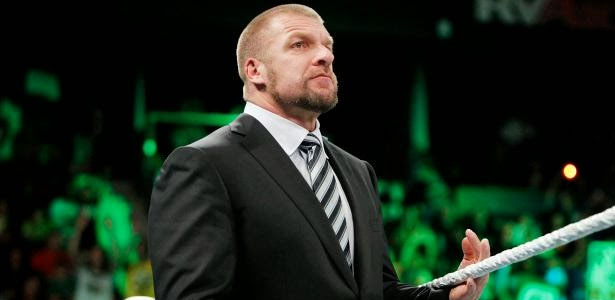 Is Triple H Itching to be WWE World Heavyweight Champion?
The clean-cut Triple H looks every bit the executive with his short hair, decked in tailor made suites. Underneath his dress shirt, tie, and buttoned jacket, one can't help wondering how badly Triple H is itching.
Every time the recently introduced WWE World Heavyweight Championship crosses his path, the urge to vie for it likely overwhelms the Greenwich, Connecticut native like raw insulation rubbed across his skin.
Triple H already claimed 13 World Championships – 8 WWE titles, 5 World Heavyweight. His status as a superstar today remains among the elite even though his in-ring appearances as a competitor have reduced to occasional. During his full-time run he never lost site of the WWE or World Heavyweight titles. For The Game, each was but an arms length from his grasp.
Deep down the self-proclaimed "King of Kings" likely entertains thoughts of being champion again more often than not.
The current Executive Vice President of Talent Relations and Live Events (Chief Operating Officer on screen) in the youthful rebuilding process of WWE, Triple H has become accustomed to passing torches to the next generation of Superstars. His skin would be less irritated if he was passing those personally.
Dedication to his role as EVP ensures the next dominant World Champion will have to come through him. While Triple H will be holding the proverbial torch when this star comes claiming, his in-ring reputation suggests he'd like to be holding the WWE World Heavyweight title too.
One can only speculate what fuels Triple H as a wrestler. Most believe he desires consideration as the greatest professional wrestler and champion who ever lived – a moniker many have bestowed upon either his real life best friend "The Heartbreak Kid" Shawn Michaels or 16-time* World Champion "Nature Boy" Ric Flair.
Does it eat at Triple H how close he is to surpassing Flairs much-heralded record? Or that John Cena is a step closer?
Imagine Triple H as a 17-time, maybe even 20-time World Champion. This is not inconceivable. Physically fit and conditioned, in tremendous shape for an athlete in his 40s, Triple H is only 3 major title wins away from a tie with Flair. And there's no clear indication when Triple H plans to retire as an in-ring competitor. The Game could easily sustain the demands of title contention.
Those aspiring Superstars who long for future championship reigns, all those who fantasize about having WrestleMania moments, would like nothing more than to beat an established icon like Triple H to ascend the next level of their careers. Growing up watching The Game weekly on cable television, monthly on Pay Per View, battling some of the most-talented men to ever step in the squared circle, these wide-eyed fresh faces view The Game as the guy to beat – literally and figuratively.
Triple H also views himself as the guy. His nicknames suggests this.
To be the man, though – "Whooooooo! – he has beat the man, surpassing Flair in total World Championship reigns.
Believe this: Triple wants to be WWE World Heavyweight Champion, don't let the suit and tie fool you. He's itching underneath.
(*some analysts claim Ric Flair held more than 16 World Championships)
What do you think? Comment below with your thoughts, opinions, feedback and anything else that was raised.