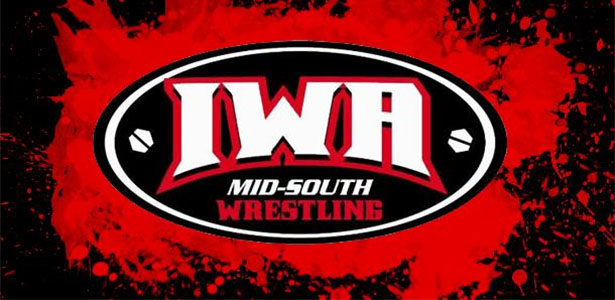 From Ian Rotten:
"Every promoter tells you how big their next show is, and I am no exception. However, let me tell you WHY this show is huge. Sunday, March 9th, at Jammerz Rollerdome Sunday Bloody Sunday stands out for me. Not just because of the array of talent coming in from all over the country, not only for the fact that it will be Drake Youngers second to last IWA Mid South appearance, but what you, the fans, can do for us. See a big crowd on March 9th, with it being a Sunday show and everything, well, plainly put solidifies WE ARE BACK. That the big dog shook off his fleas and took back over his yard. Though the flyer is great, I want to put in front of you what you will see on this epic night.
MAIN EVENT
Knockout or Submission
White Americas leader Cutthroat Reed Bentley VS IWA's very own Chris Hero!
Ropes Wrapped in Barbed Wire Texas Bullrope Match
(must drag your opponent around the ring and tag all 4 corners to win)
The Bulldozer Matt Tremont VS John Wayne Murdoch (formerly known as Damien Payne!)
White America, the team of Trik Davis and Adam Gooch VS Mr. IWA BJ Whitmer and his partner, the Zombie Princess himself, Jimmy Jacobs!
*Reed Bentley will be handcuffed to a fan!*
4 Way Total Elimination!
In his next to last match, The Psychoshooter Drake Younger VS The New Age Punisher B-Boy VS ROH Star Kyle O'Reilly VS the number one free agent in Independent wrestling, Christian Rose!
Intergender Stretcher Match!
The team of Corporal Robinson and the Punk Rock Ragdoll Heidi Lovelace VS 6'6″ 400 lb Kongo Kong and barely legal Jordynne Grace!
FINAL 4!
Winner Take All Fight for your Spot match!
Alex Castle VS Frank Wyatt VS Zakk Sawyers VS Tripp Cassidy!
ROH Star Michael Elgin returning to IWA MidSouth VS Pure Dynamite Danny Cannon!
Six Man Tag Team Action!
The Ginger Snaps (Serial Killer Jack Thriller, Shane Mercer, and Gary Jay) VS The Necro Butcher, IWA Homegrown Hy Zaya and a mystery partner!
IWA Mid South Debut!
Second generation of Rotten, Johnny Rotten Sixx, VS Todd Morton!
Tag Team Warfare!
The Hooligans return to IWA Mid South VS Team IOU (Kerry Awful and Nick Iggy)!
All this for just $20, $15 or $10! Kids 12 and under GA ticket just $7! Holy schnikeys Batman, that's a LOT of wresting!"