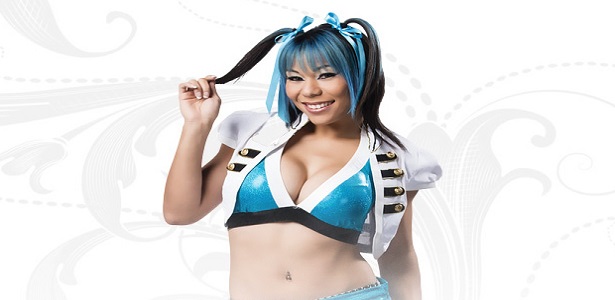 When "Doll Parts" is blaring through the TV screen and the trouble making trio of the Doll House appear, you get the sense of some very unique athletes, both in appearance and ability. The longest running members of the Doll House are Marti Belle and Jade, real life best friends that worked their way through the independent scene until they began wrestling on national television. Marti brings her Dominican heritage and trademark afro to the ring to compliment her wrestling style. Jade, of an African American and Korean background, brings fierce strength and a hard hitting move set to the table. Again, the unique look and skills are brought to the table, but Jade's journey to the Impact Zone started on a very ordinary path.
Long before she was suplexing and Joshi kicking her opponents in the Impact Zone as Jade, Stephanie Bell was a fan of the sport that she watched with her family. A self proclaimed "tom boy," Stephanie gravitated towards the action of the business and idolized the female athletes that made her believe stardom was possible for her as well.
"My dad got me into watching it as a family when I was young. My dad and sister grew out of it, but I kept watching. My favorite wrestlers growing up were Lita and Chyna. I was never able to play football, but once I saw girls go at it in the ring with the guys, I knew that's what I wanted to do," she said.
Always an athlete, she pursued volleyball during her freshman year of high school and was highly regarded during the next four years on the court, which prompted Virginia Union University to offer her a scholarship. She decided to major in information technology and after two years at Union, she transferred to continue playing for another two years at Marymount University, where she graduated with a Bachelor's degree in 2012.
During her time spiking the volleyball over the net, she decided to step into the squared circle to pursue a pro wrestling career and began training at a small school in Virgina in 2007. The two hour commute to the training center speaks volumes to her dedication to the business, as she managed to study, finish assignments, and then practiced landing on the canvas.
"Balancing school and volleyball , I could only attend training once or twice a week," she recalls.
Known as Mia Yim, she made her pro debut in 2009 and worked the smaller shows around her hometown, but wanted more seasoning so she started training at both the Combat Zone Wrestling and Ring Of Honor centers the following year. The experience of learning from some of the more notable independent groups in the United States led to several opportunities to wrestle for REINA in Japan in 2011.
"I got hooked up by Hailey Hatred. I toured to Japan seven times and each time was a blast! I got the best training there as it was several shows a week plus training almost every day. I got to learn about fitness and diet, plus different styles such as strong style, lucha, and MMA. I got to perfect my kicking style and high flying. It's so physically intense," she said.
Along with the world famous Ribera Steak House Jacket, Mia brought a wealth of knowledge back to the United States and soon applied it on the independent circuit, where she began to gain more notoriety. In 2012, Yim worked a feud with CZW veteran, Greg Excellent and the intergender matches, including a spectacular TLC bout, were considered breakout performances for her.

"It was a lot of fun. I think Greg Excellent is one of the most underrated entertainers in the wrestling world. I've gotten a lot of great training at CZW and learned tons. My feud with Excellent pushed me to my limit and is still my favorite feud I've done."
With an elevated profile, Mia began wrestling nearly a full schedule for a variety of organizations, including the women's group, Shine, where she won the championship during a tour of China in 2014. Along with the that, she won the first Shine tag team titles with Leva Bates, known to NXT fans as Blue Pants. Yim considers her victory during the historic tour of China for Shine one of the highlights of her career.
While she documents her wrestling travels and fitness accomplishments on social media, Mia impresses her nearly 30,000 Twitter follows with photographs that showcase her sculpted muscle from a strict workout plan.
"I always loved the fitness scene and figured it was time for me to make my body the best it could be. I started researching the healthy lifestyle and followed it. Had to teach myself self control and discipline. I wanted to do at least one figure competition but the minute my coach said that I had to stop wrestling during prep and training, I couldn't do it since its technically my job. So although I'd still like to do a competition, wrestling comes first," she said.

Nearly six years of hard work training, wrestling, and learning paid off when Jade debuted as a part of the previously mentioned Doll House on TNA television in 2015. Beautiful outside of the ring, Jade transforms into a wrestling beast inside the ring ropes with vicious strikes and signature pile driver during episodes of Impact.
"I had a tryout and one night only shows in 2010. I finally signed a contract in 2015. It's been a blast as everyone have been super nice and it was easy especially since I am in a group with my real life best friend, Marti Belle," she said.

Outside of the ring, Jade met and bonded with underrated wrestling star, Eddie Kingston. Along with her fitness snap shots, she showcases her English bulldog, Stannis on social media. Despite the national wrestling success and pay-per-view appearances, family is still very important to her as she continues to pursue her goals.
"The funny thing is my mom is very conservative. She doesn't watch and when she does, she always cringes. My sister only finds it neat when she's known as my sister. And my dad, he's a tough one. He will want me to stop and focus on my degree career,which is currently on hold because of wrestling, but he records all the episodes of TNA I'm on and makes music videos. He never thought I'd make it to TV. It motivated me even more to make it. When people ask me who are the top female wrestlers that made a difference, the group of Sara Del Rey, Daizee haze, Mercedes Martinez.. I want to be a part of that group. I want to leave a positive mark in women's wrestling. As far as personal goals, being successful, make as much money as I can in wrestling and then IT afterwards, having a family and living comfortable," she said.

Pretty, powerful, determined, and skilled could all describe Jade as her exhibitions of strength helped her obtain a spot on national TV, as well as fuel the female revolution currently taking place in the wrestling business. When she's not pummeling opponents on Pop TV, Jade competes extensively on the independent scene and continues to add to her wrestling resume. It has certainly been an intriguing journey for the young lady that went from spiking the volleyball on the courts in Virgina to becoming one of the top women's wrestlers in the sport on Pop TV.
For more information about Jade, you can follow her on social media
Facebook:mia yim official fan page
Instagram @Jadetna
Twitter @Jadetna
What do you think? Comment below with your thoughts, opinions, feedback and anything else that was raised.
Until next week
-Jim LaMotta
E mail drwrestlingallpro@yahoo.com | You can follow me on Twitter @jimlamotta