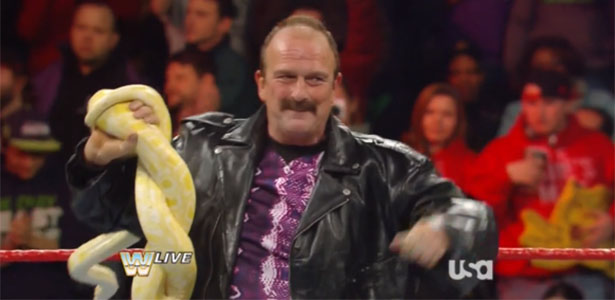 WWE.com published an interview with Jake "The Snake" Roberts where he talked about his return at this past Monday's "Old School" episode of Raw and his appreciation for how CM Punk handled the segment they were involved in.
"I appreciate CM Punk so much more now than I ever have," Roberts said. "He kneeled down over at the side, got completely out of the picture and allowed me to have that moment. It was incredible. It shows people what a true professional he is. He really raised himself up on my list of people that I respect."
Jake noted that DDP, Triple H, Vince McMahon, talent executive Mark Carrano, and the person that arranged his travel were the only people that knew he would be at the show. He was even flown into a different airport than the other wrestlers. Jake was hidden in a bus for most of the day until 10 minutes before he hit the ring and was given food and a number to call if he needed anything.
Also, Roberts spoke about his road to recovery, Diamond Dallas Page notifying him of his return, and more.