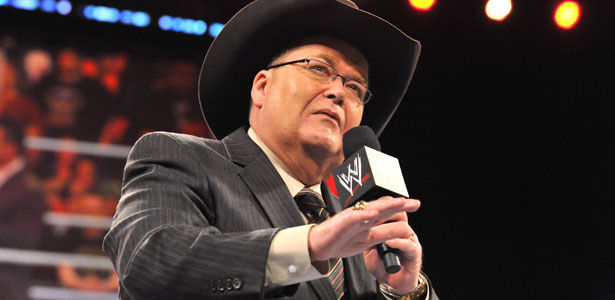 WWE Hall of Famer Jim Ross is back with a new blog on jrsbarbq.com. As always, you can purchase JR's BBQ products on WWEshop.com. Here are some highlights from this entry:
– The WWE has one, hot storyline going for them right now and that's the Shield vs Evolution. This attraction will have to carry the Payback event coming to Chicago the day after I will be at the House of Blues there for our RINGSIDE show. One reason that this issue is working is that there are clearly defined roles in play, the heroes (Shield) vs. the villains (Evolution). 16 Shades of Gray this is not.
Having six 'star' talents booked in one match on PPV at this place in time demonstrates the lack of depth currently within WWE and actually across the board in the business these days. The upside is that other talents will be, out of necessity, put in positions whereby they can turn heads if they approach those bookings with a game changing passion.
– Apparently Bray Wyatt will face John Cena in a Last Man Standing match which used to be called a Texas Death Match and is also often referred to as a No Holds Barred match at Payback. Cena accepting the match is a formality as when was the last time a hero turned down a challenge from their current, arch rival? The issue here is that Bray Wyatt has a cult following that's developing and the broadcasters seem to have a challenging time describing Wyatt. He's a controversial, unique performer who is getting more and more fans to "follow him" according to what I heard on TV Monday night which makes Wyatt….you guessed it….a fan favorite. Hmm. Nonetheless Wyatt is a compelling character, a growing star and his physical encounters with Cena have been enjoyable but I find myself as a fan not truly wanting either to lose.
There's no logical reason why Bray Wyatt should not beat John Cena at Payback.
One other point on Bray Wyatt…to make him huge as a fan favorite, simply have Harper and Rowan turn on him down the road. Cha Ching. Notice that I said down the road.
– Sad news to hear that Daniel Bryan has to undergo neck surgery this Thursday. As in most surgeries, no one will know the exact severity or the time the WWE World Champion will be away from the ring until the surgery is completed. All other info in this area is merely speculation at this time even though the word on the street is that the injury isn't as serious as Austin, Edge, etc. My only advice to Bryan is to not rush back and to take no chances with a neck injury no matter how 'good' one may think that they feel.
– Really loved Alicia Fox' performance on RAW as her post match antics were eye opening and showed just how marketable the lovely young woman can be if she is cast properly and she raises her game as she did tonight. Minutes Maximized.