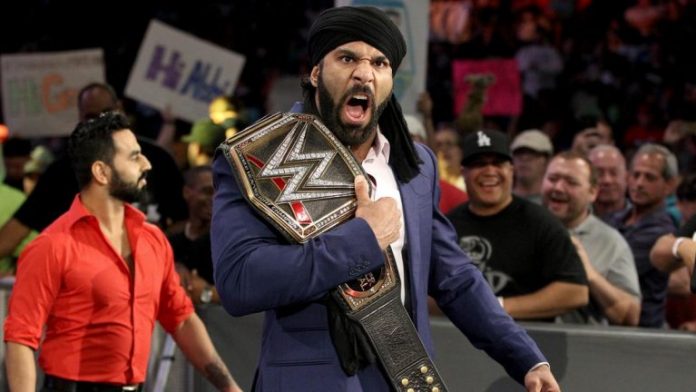 WWE Champion Jinder Mahal was recently a guest on Busted Open to promote his SummerSlam pay-per-view (PPV) title defense against former New Japan Pro Wrestling (NJPW) star Shinsuke Nakamura. Here are the highlights:
What he thinks about his match-up with Nakamura: "Yeah I'm really looking forward to my match with Nakamura, obviously a huge star in Japan, and the crowd loves him. But it's Brooklyn man, the crowd is unpredictable. It's just like Chicago, when I beat Randy Orton for the title I said in some interviews, 'Man, I honestly don't know what this crowd is going to be like. I don't know if they're going to cheer me or cheer Randy, boo me out the building, or whatnot, but as long as they're making noise it's good and I know they're gonna be making a lot of noise.' I'm interested to see where this match with Shinsuke goes. I'm definitely looking forward to working with Shinsuke. Man, his strikes are surgical."
Things Nakamura brings to the table that he feels he needs to look out for: "Yeah man, his striking, his unpredictability is a major factor. Just his charisma, his body movement, it's unlike anybody else's. He's unlike anybody that I've ever faced before. Very unorthodox but effective. So I think we're gonna have a strong, strong match and I look to working with him in the future cause I see him being a main event level talent for a long time. Along with myself, I see myself in that same light too. I'm not gonna back down, a lot of people ask me this question, 'What was it like when you won the WWE Championship? Was it like 'Oh my god I accomplished something -" Honestly it wasn't weird man, it really wasn't, because my goals are much bigger than this.
"I don't want to just be a one time champion. My goal is not just to win the championship, and it was a lot of work to get here but when I won it, I want to keep it. I actually said this on Talking Smack, when Baron Corbin won the Money In The Bank contract, they had asked me something about it and I'm like, 'When Baron Corbin out-works me, I will personally hand him this title. He doesn't need to cash-in anything. If I get outworked, I will give the title away.'"