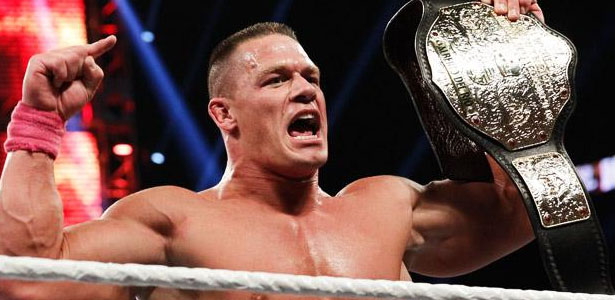 WWE's John Cena recently did an interview for NOLA.com. Here are some of the highlights.
On defending the World Heavyweight title at Wrestlemania:
'This is not taken as a shot of disrespect to anyone who has held the title before me, but it's now viewed as a second-tier championship. (Defending it at WrestleMania 30) will truly put a stamp on making it the real deal. I want the WWE universe to realize that it's not a second-tier championship. It should be treated with as much respect as the WWE title.'
On possibly catching up to Ric Flair's title reign record:
'If I have two more (titles), that means I'm going to lose it two more times," he said. "So I'd rather stay at 14. That record is held in pretty high esteem. Just to be in that conversation, that means I've done something right over the years. If it gets to the point of where it does happen, I'll enjoy hearing what our fans have to say.'
On his critics:
'I'm glad at least (the critics) are watching. So I'll keep accepting their criticism as far as my in-ring skill set and just keep moving on. I've won 14 championships with five moves, and if I could only get myself a sixth one, I'll be able to break that 16 mark. … I truly take (the criticism) in jest.'
On his dream Wrestlemania opponent:
'I really got to live a dream the past few years having some big marquee matchups with Dwayne "The Rock" Johnson. And when you rub elbows with a guy like The Rock, you truly are in the company of the greatest of all-time. It was like watching a prize fight where everyone is just throwing haymakers. For us to be interactive over a 2 1/2 year span, it was pretty impressive, especially in this day and age. It was a dream scenario for me.'
You can read the full interview here.