JR & Foley Comment on Wyatt & Jericho, Photo of Darren Young at Pride, Controller Appointed
– The GLAAD website has photos of Darren Young at the New York City Pride festival this past week where he apparently played a significant role. Below is a photo: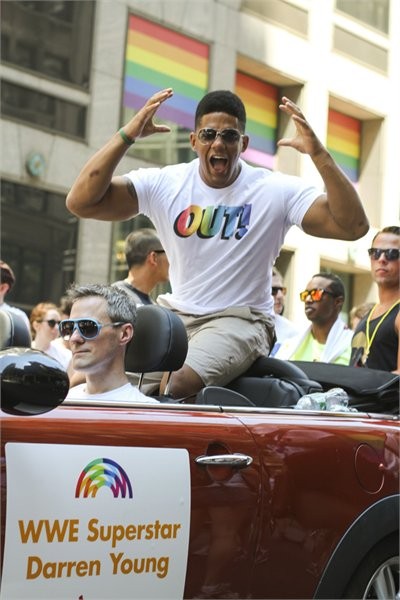 – According to a SEC filing from Monday, WWE has appointed Mark Kowal from Corporate Controller of the Company to Principal Accounting Officer. Kowal has been with WWE since 2001, beginning as Director, General Accounting, and becoming VP, Corporate Controller in June 2004 and SVP, Corporate Controller in February 2014. Kowal worked as a certified public accountant for a law firm before coming to work for WWE.
– Jim Ross tweeted the following about Bray Wyatt after last night's RAW and the attack on Chris Jericho:
"@WWEBrayWyatt was a heel tonight. #RAW If there are heels still in the rasslin game….that is."
Mick Foley also tweeted about Wyatt and Jericho:
"I have a feeling that @WWEBrayWyatt is going to bring out a side of @IAmJericho that we've never seen before. #RAW"