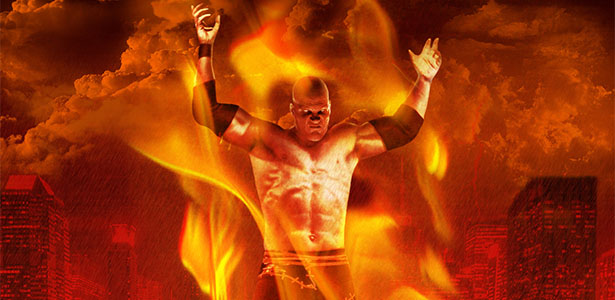 Kane SHOULD BE the most over heel in the industry right now not named Brock Lesnar. I know how ridiculous that sounds when you look at where he actually is right now, but if you let me, I will explain to you how badly the powers that be in WWE screwed up by dropping the Kane push. Everything was working for it, but the angle was wrong. The problem was that the booking didn't capitalize on a few very crucial things that could have made Kane look unstoppable and with a few tweaks. He's probably still WWE World Heavyweight Champion in my world. Instead of being the momentum keeper of Roman Reigns. Seriously, we know Reigns can beat Kane. He's done it a lot lately. Why does another win over the same guy make him look any better? That is where Kane is right now. So, me saying where he could be probably sounds kind of fantastic or dumb. In fact there was a fellow writer here who claimed that Kane should be done as an active competitor, but let me ask you one thing. Let me talk for a little while, and then decide if Kane is doing the best work being Reign's stepping stone. Here is my question: Why hasn't Kane gotten any credit for ending CM Punk's career, or putting Daniel Bryan on the shelf and forcing him to lose his titles that everyone in the WWE Universe and their Grandmas spent the better part of a year trying to get him?
Really think about that for awhile and tell me that wouldn't put Kane super over. For example, Paul Heyman walked right into the Lion's Den of Chicago to Punk's own entrance music and got more heat than any of us have seen in a long time. Then boom, Streak broken. Everyone and their Grandpa knows that Punk walked out for a variety of reasons, but they couldn't twist the angle for television? Instead WWE went with the ignore him and he'll go away tactic aside from when they were in Chicago and HAD to acknowledge it. Heyman got his rub, but where did that leave Kane? Kane wasn't even on the show at all. Yet, wasn't Kane the one who eliminated Punk from the Rumble and put him through the table. As characters, we haven't seen Punk since. On paper, Kane ended Punk's career and no one thought to bring that up? Can you imagine how much the fans in Chicago would have loathed Kane if he had gone out there and told them that he ended Punk's career? That is insane heat. That would have been an ocean of pure hate going into Mania. Kane probably could have done whatever he wanted. He certainly wouldn't have been jobbing to The Shield with the Old Age Outlaws in four minutes.
Now, let's say everything goes naturally from there, or as much as it can. The Shield takes down Big Daddy Kane. Bryan beats all active members of Evolution in one night and blah blah blah. It would still make total sense for Kane, the man who ended Punk to go after the title. Actually, more than ever with the extra heat on him. He can remask, that triple Tombstone night off the stairs is even more deadly because Kane has momentum already and everything can go exactly the same right through to Bryan's injury.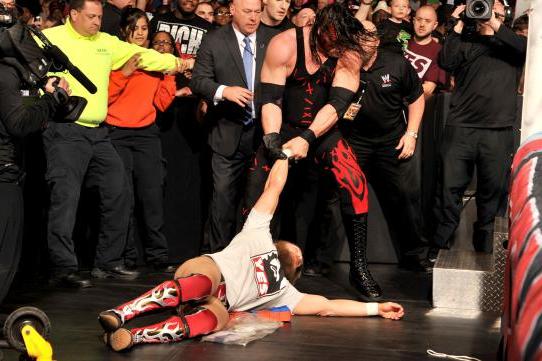 Bryan got hurt. It sucks a lot, but they dropped the entire angle when Bryan couldn't compete. Then we got the Money in the Bank PPV where John Cena won again. By the way, I was at that PPV. I promise you, that crowd had no interest in watching Cena win in his own hometown. We got THAT instead of Kane getting the title from The Authority. This whole story between Cena/Lesnar is backwards in WWE logic. The whole storyline is Plan C is Lesnar just to get the title off Cena, but they already had the chance to put it on Kane when he put Bryan on the shelf. A shelf Bryan is still on I might add. That's where my head was at when Bryan got hurt. "Bryan is hurt? Okay, Kane should get the title right?" Kane is in The Authority. He was the one who put Bryan on the shelf and in my world, he ended Punk's career. Kane was batting a thousand for Triple H and Steph. Why in the hell didn't anyone in the booking department ask the most obvious question? On paper, Kane had ended Punk's career, was personally responsible for putting the hottest wrestler and current WWE Champion on the shelf after the fans had scratched and clawed him to get the damn title and he was already in The Authority's back pocket. Technically, all these things are still currently true, yet the powers that be ignored Kane twice and put the title on Cena while Kane has been lost in the shuffle and is now doing nothing but putting Reigns over on a weekly basis. What the hell happened?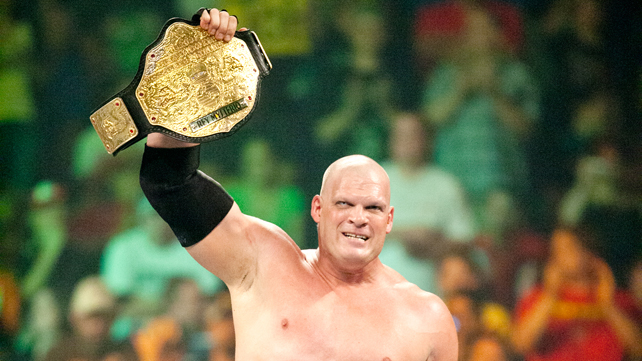 You have to see my point now. It's right there, and I really can't figure out why Kane isn't huge right now. It makes no sense. I didn't even rewrite history. I didn't manipulate history and I changed nothing. All I did was acknowledge that Kane has been the hand behind these major changes on WWE programming. What is even more crazy is all this still fits with their current storylines. They could run these angles for Bryan's eventual return if they wanted, but they won't because who "they" are can't see what's right in front of their faces. So, you tell me why hasn't Kane gotten credit for any of this? Others on this site want to talk about how Kane is "done", but he clearly isn't. He is being ignored. He is being ignored because he isn't John Cena, or Roman Reigns. "They" have wasted what could be Kane's last year because he didn't fit their plans. In my opinion, Kane should be WWE Champion right now. At Summerslam, or maybe even Battleground if "they" wanted to rush it, John Cena FINALLY takes down The Big Red Machine. The Authority gets so infuriated by this that they hire a rouge Lesnar to stop Cena right after Lesnar beat The Streak. Boom. I just utilized Punk's retirement, Bryan's injury, John Cena, Brock Lesnar and all of Kane's momentum to tell a much better story with all involved. Then, I would have Reigns vs. Kane and it would be much more meaningful. It's not rocket science. It's just good booking. I just don't see why people who are being paid to do exactly this can't see potential right in front of their face. I hope you realize this next week of TV as Kane plays second fiddle to everyone else that he should be better off. He could have been much more. He would have been The Big Red Machine once more.
What do you think? Comment below with your thoughts, opinions, feedback and anything else that was raised.