The WWE calls it the "Reality Era". I call it the "Era of the Podcast". During the past year the wrestling industry has seen a major boom podcasts hosted by wrestling personalities. Many of these podcasts are downloaded millions of times by wrestling fans across the globe. Even the WWE has recognized the podcasts as a respectable form of media. The Steve Austin podcast has been featured on the WWE Network twice now. This got me to thinking about the good old days of the shoot video. Remember those? I was intrigued by the idea of wrestling podcasts killing the shoot video industry. I reached out to Sean Oliver of Kafaybe Commentaries for his take on the industry:
How long have you been a wrestling fan and when did you know you wanted to form a company like Kayfabe Commentaries?
Sean Oliver: I saw my first glimpse of pro wrestling in 1978, on a large black and white TV. There stood Superstar Billy Graham, on the mic, then in the ring, on Vince Sr's WWOR Channel 9 broadcast. I'd never seen anything like that and I was mesmerized. Hooked from the get-go. I watched all through childhood and fell out of love with it when things got goofy…plumbers and hockey players in the ring. But ECW kind of hooked me right back in, and of course the attitude era and Monday night wars were the perfect elixir for the disenfranchised wrestling fan. A good re-entry point.
What is your background in wrestling?
Sean Oliver: My background in wrestling is nothing. I own a production company that produces wrestling-oriented programming. Prior to starting Kayfabe Commentaries in 2007, I was a film and TV actor, did a zillion voice gigs on big films, worked on Wall Street for 10 years, directed commercials. Wrestling was nowhere on the grid.
What does it take to start such a company?
Sean Oliver: Wow. That can take hours. But let's limit ourselves to just the valuable advice…passion. And knowledge ABOUT your passion. If you start a company that deals in a passion you have, whether it be a wrestling company, bait and tackle fishing store, whatever…you have such a better shot at succeeding than anyone starting a company for the sake of revenue or just being an entrepreneur.
I started writing a book a few years ago that studies just that. I had this theory that "Person A" going into business in a field he or she is passionate about and has deep, intense, personal knowledge of that niche because they're already a customer in it, has an infinitely better shot at success than a well schooled, business educated "Person B" or even "Big Company B". This is simply because Person A will make decisions based on an intrinsic gut knowledge of what a customer or viewer will want to see or buy. Whereas "B" will be mired in data and studies and ill-formed comparisons to similar market items that have differences from their product, but are subtle enough only to be seen by a passionate customer. Like "Person A". Get it? I know that's a lot".
Tell us about your products and which series is most successful? ( I like the timelines best)
Sean Oliver: I think YouShoot has generated the most revenue overall, but you're talking 29 editions of the show. Timeline: The History of WWE is a close second. All Timelines combined would certainly win out, though. And to my prior point … there's a great idea that was happened upon because me and Anthony are FANS first and said…"hey you know what would be cool?" And viola. The whole damn company was formed on that impulse…"why the hell can't anyone do this stuff RIGHT?
Any aspirations to become a promoter? Or have you already done so?
Sean Oliver: Christ no. I have a degree.
Have you seen a decline in the shoot video industry since the formation of the podcast?
Sean Oliver: We've talked about this a bit at the company, quite frankly. And there are two takes on this. First and foremost, wrestlers and wrestling personalities have to stop just giving away their story for free. Their legacy is what should now be making them money, if they are out of the ring. At KC we pay and pay fairly to record and sell a part of that creator's legacy. Why the hell are they giving it away for free for two hours on Joe Fungul's podcast? An appearance to plug a product is customary of course, just like being on Letterman for 10 minutes to sell your film. But doing a shoot interview for free for two hours on a podcast? Guys, you're killing your market. Seriously. They collectively need to get together and stop this free shit. They deserve to make a living off of the legacy they've built.
That's just for the wrestlers' well being. For the BUSINESS of shoots…I think the fact that WWE has basically made their network a collection of shoot interviews and content emulating Kayfabe Commentaries' formats and programs, and also the proliferation of wrestler podcasts can be good for our business. A whole new segment of viewer is being introduced to shoot-style programming, and eventually they will come to the producers that consistently produce the purest, most innovative and entertaining shoot-style programs. WWE is a great silent partner, as are all the free podcasts by high profile wrestlers. They will attract the widest audience by casting a wide net. The eventually, that audience will find us. And UNLIKE programming produced by WWE about WWE, we can tell the whole truth, even the ugly stuff.
Who was your most expensive wrestling personality to have on?
Sean Oliver: Generally the bigger the name, the bigger the payday. Guys like Bischoff, Bret, Piper are not cheap. The Ring Roasts events were costly productions, comparatively speaking also.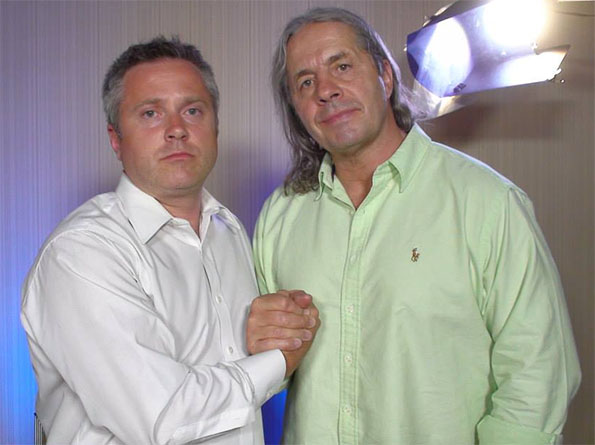 Any plans for your own podcast?
Sean Oliver: Not yet. I think a great place to see and hear me is on Kayfabe Commentaries programming.
Who was your worst guest ever?
Sean Oliver: I didn't enjoy the Chyna interview. She's very nice, personally. But YouShoot didn't fit her well.
Everyone here at PWMania.com wishes you the best of the luck for the future. Thanks again for taking the time to sit down with PWMania.com.