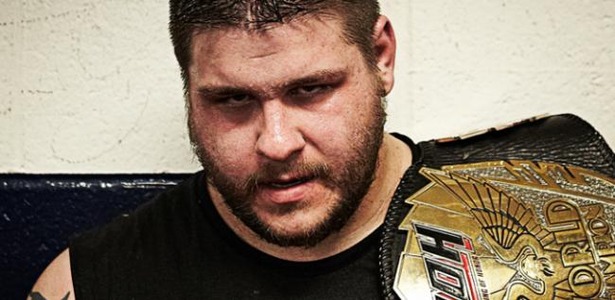 – Last night at ROH and NJPW's War of the Worlds iPPV, following his loss to NJPW's Shinsuke Nakamura, Kevin Steen took the microphone and said that after seven years of being in Ring of Honor he thought it was time to take a break. Steen continued by saying he loved ROH, but he wasn't always happy, but no matter what he loved it. As fans chanted, "No!" and "please don't go", Steen said he needed to think about his family because he just recently welcomed a new member to the family.
Steen would get cut off by "The Last Real Man" Silas Young who said that Steen was a "pussy", and that if he left his son would grow up to be one too. Steen and Young got into a brawl until referees and officials pulled them apart, Steen diving to the outside to try and get at Young but taking out the officials and referees instead.
While Steen is advertised for Ring of Honor's first live PPV, Best in the World, on Sunday, June 22, his ROH contract reportedly expires in July. Last March, Steen attended a WWE tryout at the Performance Center with Dave Meltzer reporting on the Wrestling Observer that officials were impressed with his fitness. Steen has also lost a considerable amount of weight since the beginning of the year.
Steen will not be taking part in ROH's "Road to…" shows next month as he will be working for Tommy Dreamer's House of Hardcore that weekend. But Steen is still advertised for Best In The World, with last night possibly being a way to work him into the PPV against Silas Young without him having to appear on the June 6 and 7 double-shots in Collinsville and Carbondale, Illinois.