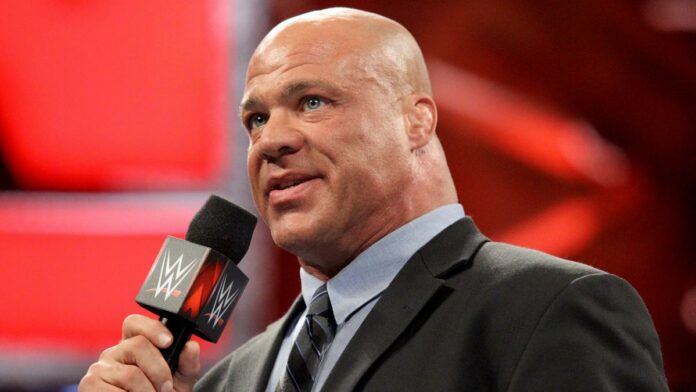 Kurt Angle recently did a Q&A on his Facebook page. Here are the highlights:
You had excellent matches with both Brock Lesnar and AJ Styles in the past. What did you think of their match at Survivor Series? Did anything about it surprise you?
"Their match was incredible. It displayed both of their strengths. If you stay on Brock, he will sell for you. AJ did that, and Brock sold his ass off. Match was MONEY!"
How did you make yourself stand out in your early days in pro wrestling?
Also, can I please be your illegitimate grandson on RAW?
"LOL. By forgetting anything I ever learned in amateur wrestling. And the fact that I took chances with my character to be more entertaining. It worked."
Playing WWE 2K18 has given me the chance to play some dream matches I would have loved to of seen with you vs different people in the WWE hall of fame my favourites being Bret Hart, Curt Henning and Ravishing Rick Rude but if you could face one person in the WWE hall of fame that you didn't have the opportunity to face, who would you choose and why?
"Bret Hart. Never had the chance and I'd love one match with him."
Kurt. What did they do to repair your neck after you won the gold metal for the USA. What a great accomplishment to have in life and to take it to the extreme to win it under those conditions You sir are a American Hero
"Thank you, Tony. I never had surgery back then. No repair. I wrestled with it injured. I was lucky, but I took the chance. It was my time to shine and nothing was going to take me away from it."
Big Kurt where'd you get the idea to lie down on the Ankle Lock? Always thought it was the coolest thing and added a highly effective dimension to the move no one else seems to have used xxx
"I thought it would add another dimension to my wrestling and submission. It did. It allowed me to tease the ankle lock while standing. When I sat down, it was over!"
Being an Olympic wrestler and all that, how'd you get so good on the mic? Was it natural charisma that you always had or did you have to work very hard for that part when transitioning to WWE?
"I didn't have much work on the mic, if any. Sometimes you get thrown into the water without being ready. You have two options. Sink or swim. I swam:)"
Is your leg ok
"Leg is ok. I tore a muscle in it doing wind sprints 2 days before PPV. It's okay though. I feel good and should be 100% in a week."