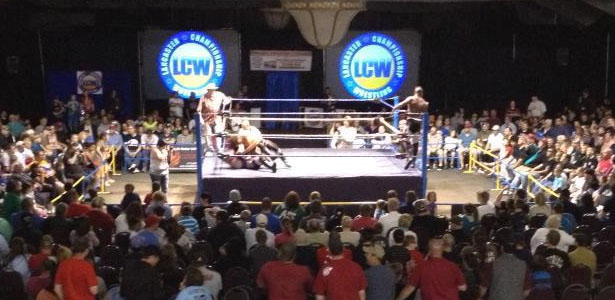 Lancaster Championship Wrestling was an action packed, edge of your seat, exciting, experience, last night, Saturday, February 15th. As I arrived at the venue, the Lancaster Host Resort, off the Lincoln Highway, in Lancaster, Pa. I was amazed at the line of people waiting to get in. I'd bet over one hundred people stood in a line, over an hour long, to get in the doors at 6:00pm in the freezing cold temperatures. I spent some time talking to those in line, and everyone one of them was riled up, and ready to go. Many had signs, streamers, and autograph books in hand. The couple in the front of the line, told me that they had been there since 1:30pm that afternoon! When the doors finally opened, the throng of people popped as if CM Punk had just arrived. Everyone proceeded in, at a nice pace, to find their seats. If you aren't lucky enough to get a first row ticket, all other seats are general admission, which means first come, first serve. To my delight, no one was pushy, and it wasn't difficult for me to get a second row seat, right in the middle, and save it with my jacket. Many wrestlers were seated at their own tables, greeting fans. I met, and spoke with Shane Douglas, the LCW champion. He told me that he was glad to see me there, and that he knew of the sites I write for, and would make sure he checked out this article. Rhino said the same, as he insisted that a size large t-shirt would fit me, because he wore an extra-large. Greg "The Hammer" Valentine was there as a special guest, and he told me that he legitimately feels that Pennsylvania wrestling fans are the best fans in the Country. He also told me that he prefers that I write that he is a WWF superstar, and not a WWE superstar. He said "I'm just too dedicated to the old school to be called part of the WWE." I went on to talk with The Red Scorpion, Mark Hazel, Eddie Smooth, and Jay Diesel, a young up and comer that has trained with many in Ring of Honor, and is really hoping to make an eventual impact with that company, as well. I sampled all the vendor tables offering everything from Wrestling action figures, to DVD's, before it was finally time to get to my seat, for the start of the show.
LCW has a great "set." From two large hanging screens (think smaller Titantrons) to a side podium area, for interviews, and announcements, they really are set up like a professional organization. We begin with a quick interview with champion Shane Douglass who tells us that he is going to stretch Rhino, and easily defeat him in tonight's main event. The opening of the card was a segment with LCW owner, "The Perfect Owner" Jason Smith, announcing the results of an investigation, as to who released a video of him shopping for a suit, at Walmart. ("Walmart suit," is by far the most over, and loudest chant amongst the LCW crowd). He insisted it was doctored footage, and that he had gotten to the bottom of it. Flanked by his body guard, and Shane Douglass, Jason announced that it was referee, Tonya Stevens, that was to blame, and he instantly fired her! Chairman of the LCW Board of Directors, Chance Tucker seemed livid, as he consoled Tonya, and escorted her to a seat, in the audience.
The ring announcer (who is himself, pretty over with this crowd) then welcomes us, and is set to announce the first match up. The card began with That Eighties Team taking on Eddie Smooth and James Dempsey. In my preview of this card, I thought that Eddie and James may wind up stepping on each other, as they rise toward the top, but that didn't happen. They worked together like a well-oiled machine! That's not to say That Eighties Team wasn't just as fluid. Several times I thought they had the match won, but Smooth, and Dempsey just weren't going to be denied, and they pick up the win here. On a side note, Eddie Smooth is over big time with the women in the crowd. I thought he was going to need security to leave the ring side area.
The next match would see The Red Scorpion, Mark Hazel, take on Sinister X. Sinister X is accompanied to the ring by The Perfect Owner, and his body guard, Chris Carter. Chance Tucker makes his way out to ring side, and announces that in an effort to keep this match fair, a special referee has been named. The fans erupt, when Shatter is announced as that special referee. The Perfect Owner, and Sinister X, are not happy at all. The Red Scorpion seems delighted, and the match gets underway. This was a very heavy hitting bout, as was to be expected, from two huge men like Scorpion, and Sinister. Much to my surprise, they even used a few high flying style moves, to great success. Red Scorpion is a major fan favorite. The kids, and families really love this guy. I saw a ton of little girls with Red Scorpion paint on their faces, and braided in red locks, to match his. Sinister X, is just the opposite. A massive heel that few in the crowd like at all. Just when it appeared that The Red Scorpion was overcoming the antics of the Perfect Owner, Shane Douglas ran into the ring with a steel chair. Special referee Shatter is there to make the save, as the fans jumped to their feet! However, Shatter then nails Red Scorpion, over the head, with that chair, and makes the fastest three count you've ever seen, declaring Sinister X the winner. He then embraces The Perfect Owner, Shane Douglas, and Sinister X! The LCW crowd was shocked, and angry. A little girl, in front of me, was actually in tears. The Perfect Owner, Sinister X, Shane Douglas, and Shatter, then proceed to beat The Red Scorpion severely, until a large group of wrestler, from the back, get to the ring, and run them off. After The Red Scorpion is placed in a neck collar, and escorted from the ring, we are on to the third match of the evening.
Amos and Esther Stoltzfus, LCW's resident Amish couple, taking on Rising Pride, the team of Jay Diesel, and Ken Phoenix. As is the norm, Amos and Esther do all they can to get the participants of the match to pray with them, before we start, but Jay, and Ken, have no part in it. This is almost a handicapped match, as Esther simply tags in, when Amos gets one of the Rising Pride guys down. Still, this is a fun match. Rising Pride clearly models themselves after The American Wolves, and they really do a great job at chopping Amos down to size. While no Lou Thez, Amos is a threat in the ring. His size alone is scary for any opponent, then add in Esther's shenanigans, and you've got issues facing them. However; Jay, and Scott, work fluidly together, and seem on the verge of victory. Just when you thought Rising Pride would stand tall, Amos takes Jay to the outside, and as those two are going at it, getting the refs full attention, Esther sneaks up on Ken, and gives him a nasty low blow. As Ken falls to the outside, and Amos keeps Jay distracted outside, the ref counts to ten, giving Amos and Esther the count out victory.
After the intermission, it's time for the no rules match between crazy men, Suicide Meyers, and Sick Rick Havok. The loser of this match will be placed in a strait jacket, and committed to a local asylum. Sick Rick comes to the ring carrying a wooden pallet, and he and Meyers instantly start fighting all over the ringside area. Chair shots, coke can shots, and two Cactus Jack style leaping elbow drops from the ring apron, to the floor (from Meyers) is just some of the hardcore style action we see from these two. Meyers seems in control most of the match until Sick Rick begins to foam at the mouth! Sick Rick tears it up with a big comeback on Meyers. However, utilizing the pallet that Sick Rick carried to ringside, Meyers smashed Sick Rick into it, and laid it center ring, and delivered a sick body slam onto the hard wood, and pins Sick Rick Havok. Meyers then put some kind of nerve hold on Sick Rick, so the orderly's can get him into the strait jacket, and lead him out for his commitment. Will we see Sick Rick again? When? Will he be the same? Only time will tell.
Powerhouse wrestler, Ed House, makes his way to the ring, and issues an open challenge to Shatter. He couldn't believe what Shatter did tonight, and House wanted him in the ring right then. Shatter obliges, and hits the ring. This is a major brawl, as the two big guys, both once beloved by the crowd, tear into each other. The little girl, in front of me, is crying again, watching her once favorite Shatter, be torn down by House. It's clear that House is dominating the match, using his anger at Shatters betrayal to fuel him. Just before House can end it though, Douglas, Sinister X, and The Perfect Owner, along with his body guard, hit the ring and attack House, giving him the dq victory. Finally a group of fan favorites, including a recovered Red Scorpion, hit the ring to run the bad guys off. As the ring begins to clear from this, a young fan begs for the house mic, and Red Scorpion obliges. What a great moment! The kid brought the house down. He wants to book; House, Scorpion, and Kras Van Tassel vs. Shatter, Sinister X, and The Body Guard in a no disqualification match.
Next up was Kras Van Tassel vs. Eddie Valentine in a hair vs. mustache match. Valentine is always running down Tassel for his pony tail, so Kras challenged Eddie to put his "porn stache" on the line and he would then put his pony tail on the line, tonight! XXXtasy make their way to the ring, sans Eddie Valentine, and they tell Kras that there is no way Eddie is facing him tonight. As Kras is distracted by them, Eddie hits the ring, from behind, and the match starts with this Pearl Harbor, by Valentine. Valentine wrestles in trunks that barely contain him, and it's honestly rather grotesque. It doesn't help, that after every move he hits, he swivels his hips, and shouts "yeah baby!" Thankfully Van Tassal, even having to put up with XXXtasy's attempts at interference, overcomes Valentine, and picks up the win. He then shaves Valentines mustache, as well as the chest hair of Adrian Bliss, and the head of Boy Boy, much to the delight of the crowd.
It was then time for the night's main event, and what a main event is was! The Lancaster Heavyweight Champion, Shane Douglas took on Rhino! Rhino was showered in streamers as he was introduced, then these two ECW originals, the first, and the last ECW champions, before the WWE buyout of ECW, were almost literally tearing the place apart, as they fought all over the arena. From slams onto, and into vendor tables, to shots with water bottles, coke cans, and ring side railings, these two seemed as if they wanted to kill each other, and anyone that might be in the way. The LCW crowd was on their feet the entire time, hoping to see a new LCW champion crowned. Shane Douglass likes to tell the Lancaster crowd how awesome Pittsburgh is, and how they should be honored to have a man from that City representing Lancaster. As such, I cannot tell you how badly the live crowd wanted Rhino to take that belt. It seemed destined to happen as the match got back into the ring, and Rhino was hitting Shane with power move, after power move, setting him up for the GORE! The referee got in the way, and was taken out instead, then, as the theme of the night had been, The Perfect Owners men hit the ring, and took out Rhino, allowing Shane Douglas to get the pin, when a second ref came to the ring, and counted the 1-2-3. While clearly disappointed, the fans chanted loudly "Please come back" to Rhino, and he promised that he would indeed return.
Just when we thought the card was over, chairman Chance Tucker made his way to ringside. The board has decided that a new position would be created in LCW. That position would be "head of special referees," and Chance had the authority to hire anyone that he wanted, to fill that position. He had decided that recently fired referee Tonya Stevens, would fill that position! Tonya is given the house mic, and she announces that on LCW's next card, she has signed a special referee that will assure that The Perfect Owner, and his crew, are kept in check! Suddenly, Mick Foley's music hits, and his video plays on the screens, as she confirms that yes, he will be the guest referee in the next LCW heavyweight title match! The Perfect Owner is livid, as he and his group saunter out, and the LCW fans go crazy!
This was a wonderful night of professional wrestling. I liked every single match on the card. Sure, I liked some more than others, but not one match was bad. While the Perfect Owner, and his group of wrestlers, seem to own LCW, I am confident it's building to some major good guy moments. While a guy like The Red Scorpion seems "held down," I really believe that he is going to overcome. Shane Douglas and Rhino lent a lot to LCW, just as the legends they bring in, always do. The LCW title really seems important, and desired. I can't say enough positive things about Lancaster Championship Wrestling. The crowd was the hottest, and liveliest, crowd I've ever been in. I seriously don't think the crowd for Ric Flair vs. Hulk Hogan, in Hersheypark Stadium, many years ago, was this hot. The final count for the show was 580, and they made enough noise for 1080! If you get a chance to go to an LCW show, you really need to do it.