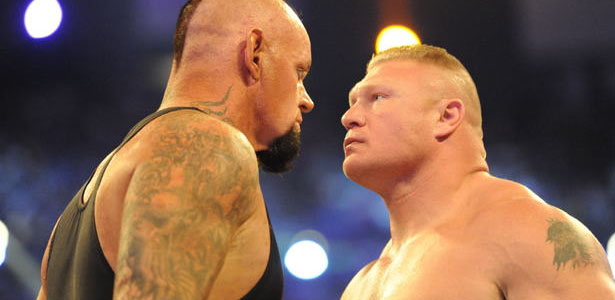 Thanks to PWMania.com reader Andy Badwool for sending this in:
I was in attendance at WrestleMania 30 sitting in the Lower Level section at the Superdome in the side that faces the stage (so the one behind the announce table), and something very strange happened regarding the Streak match.
Right after The Undertaker completed his entrance, when the match was about to start, for a split second a big white "0" number graphic appeared inside the "X" on the right (of the three XXX) of the WrestleMania XXX stage. It appeared for just a split second and then it disappeared. I checked back and it wasn't shown on TV as cameras were focused on the ring.
Me and my friends all saw it and made it notice to who was sitting near us, and the impression we all got was "they just spoiled the match!" thinking that was a test/mistake for showing the 0 of the 22-0 graphics that would then appear on the three XXX at the end of the match. But obviously, that didn't happen as Taker lost the match.
So the appearance of that 0 could mean different things – one of the things we initially thought was that the match wasn't supposed to end like that and the Streak was actually supposed to continue, that maybe Undertaker could no longer continue and they called an audible, but on second thought we realized they wouldn't let something as big as this end in a botch.
So what it actually could mean is that not even the production team knew the outcome of the match, at least not before the match started, as clearly the 22-0 graphic was ready to go/being tested before the match started. It could be possible that the production team was informed of the 21-1 only minutes before the match ended, that would also explain the "thrown-together" simple 21-1 graphic that was made to appear on the titantron.