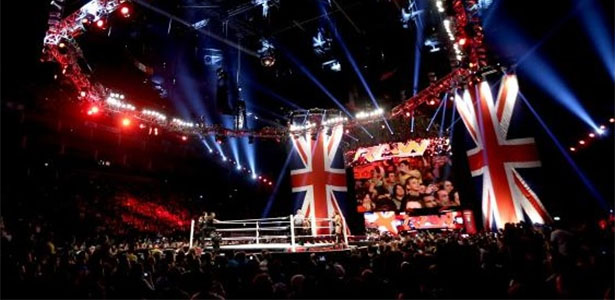 You could tell, from the get-go, that UK WWE fans had been starved for wrestling action. For what it's worth, it was tremendously enjoyable. The O2 Arena for Monday's Raw was a complete sell-out – whether the figure was just under 17,000, as WWE claims or a closer-to-15,000 number as reported elsewhere – the fact remains there were hardly any empty seats.
The matches taped for WWE Superstars prior to Raw consisted of:
– Big Show vs. Titus O'Neil
– Jack Swagger w/ Zeb Colter vs. Cody Rhodes w/ Goldust
Big Show got a good reaction, as did the Rhodes Brothers. Big Show shook hands with fans at ringside before and after his match. Jack Swagger got a surprisingly strong reaction too. The crowd was divided, and a large portion chanted his theme song during his match too.
Raw was very enjoyable throughout, and whilst I may be slightly biased considering I hadn't been to a WWE live event since 2008, it actually proved a significantly good show with very little portions of what we would call 'unnecessary'. I won't review everything in massive amounts of detail but there are some notes that may have not been televised.
The Wyatt Family got a very strong reaction in the opening segment and when Luke Harper came out for his match. Seeing him cut a promo (I think for the first time I have seen on WWE television) was a nice surprise. Harper showed great ring presence in his match with John Cena (who got about 75% boos) and he has significantly improved. He is arguably the sharper of the two Wyatt followers, and Rowan should show the same progression shortly. Bray's promo got a very good reaction too – in fact, maybe louder than it seemed on television. They teased another impending Tag Title match against the Usos soon. More on that later.
The Shield got a near-deafening reaction from where I was sitting. The Rollins-Batista match was very entertaining and Batista, for all his faults was better than I anticipated. He also competed the next night on SmackDown, which was even more surprising, but I digress. It seemed with Orton and Reigns (considering their injuries earlier last week in their match), WWE didn't want them exerting too much strain to exacerbate their injuries, but they seemed okay. Triple H got a good reaction from a lot of the older fans around where we were.
Obviously the biggest reaction of the night went to Bad News Barrett, who was nothing short of brilliant. His promo got a tremendous reaction. After the Cena-Harper match, I know PWMania reported that once the show went off the air, Bray Wyatt challenged anyone to face the Wyatts. Out came The Shield who got another loud reaction; the brawl that ensued got loads of "This is awesome!" chants. There wasn't a match specifically, but our crowd section absolutely loved it. The crowd was even louder when Bad News Barrett emerged after The Shield left; Barrett clocked Rowan which drew a loud pop. His subsequent promo was very enjoyable – as he talked about Paige and Adrian Neville being standout British stars for the future. There was a small "We want Devitt!" chant not far from me but it never really materialized.
One reaction which really surprised me was Adam Rose's. In the short time he's been appearing on WWE television it seems his reactions haven't really garnered much attention, but the UK crowd absolutely loved him. The chants of his theme music were very loud and even continued partially through the Cena-Harper match. In Bad News Barrett's dark promo, Adam Rose came out and still got a very strong reaction. Definitely one of the most over stars of the night. It seemed, based on the fact that he, Barrett and Triple H technically closed the show, that WWE might be showing keen interest in Rose as a character.
Fandango also got a great reaction in a similar fashion – his theme song was being sung by almost the whole arena. Rob Van Dam also got a great pop, as did Cesaro – but his was not as big as I anticipated. Paul Heyman, when he mentioned his "No, I'm not your Queen finally dying" comment drew a very loud mixed reaction. Most of where we were sitting cheered and laughed but we did hear some significantly loud boos a few sections away.
Paige, as expected, got a big reaction, but we didn't see her match with Alicia Fox as we were delayed in getting back from the bathroom – there was a HUGE queue. We came back as Alicia got the pinfall – and she got a good heel reaction. It seemed apparent that WWE has good faith in getting Alicia some decent heel heat – beating Paige in the UK was a good move in my opinion. It may have upset a lot of fans but she definitely showed some progression as a heel Diva. Looking forward to the impending title match.
Dolph Ziggler got one of the biggest reactions of the night – certainly from where we were sitting. It may not have been heard on TV, but a lot of our section were chanting "We want Ziggler!" at various different times throughout the evening.
As we already may be aware, Stephanie McMahon's promo garnered a thunderously loud "CM Punk" chant, of which we know they edited for television. At one point it was so loud that even I couldn't hear a fraction of what Stephanie was saying. While I remember, several "CM Punk" chants occurred before the shows began, during the Divas match on SmackDown and at odd points between segments.
SmackDown was obviously significantly less busy than Raw; it must have been approaching 10,000 in attendance. We were sat in a different area on the top tier; it was a section to the right of where we were sat for Raw.
Prior to taping Main Event, we had Jinder Mahal, with 3MB as The Union Jacks at ringside face El Torito accompanied by Los Matadores. It was a quick match with a few comedy spots, but other than that there wasn't much else to it. A lot of our section weren't massively into the match.
The matches taped for Main Event, preceding SmackDown were as follows:
– R-Truth vs. Damien Sandow (dressed as Sherlock Holmes)
– Naomi w/ Cameron vs. Aksana
– Mark Henry vs. Cesaro w/ Paul Heyman
A few notes about Main Event:
The Sandow-Truth match was not very enjoyable at all. Not so much that the match featured bad wrestling, it just failed to garner interest. It's a shame because Sandow has potential to be a good midcard/upper-midcard heel. But his gimmick as Sherlock Holmes didn't really hit home with the UK crowd. Truth got a good reaction but he lost momentum. The ring chemistry was okay but Sandow deserves a little bit more.
Naomi and Aksana competed to a dead crowd. Aksana botched a couple of spots, but Naomi performed quite well. The crowd didn't really react to anything in particular.
Henry and Cesaro's promo at the beginning of the taping was good, and Heyman/Cesaro got some good heel heat. By the time their 'match' came around, Cesaro had appeared multiple times in 2 days and this reaction was significantly dimmer. There was no real passionate interest in the match from fans around where we sat. But I think it served its purpose to get Cesaro some better heel heat. Just I feel he could have been used more significantly that's all. The crowd reaction wasn't that strong for him by the time it closed though.
Having said that, in the dark match that followed, Adrian Neville and Sami Zayn turned the crowd around completely. Both men got great reactions and really picked up the pace in what was a very enjoyable contest. Zayn got his "Ole" chant and Neville got a loud pop for his spots. The crowd chanted "This is awesome!" about 4 minutes in, when they were working preliminary offense. The match was relatively short, but it just proved that both men have the potential to succeed on the main roster. Definitely the match of the night.
As SmackDown began, Jimmy Hart came out which actually surprised a lot of people around us, but we knew what was about to follow. As Hulk Hogan made his entrance, I kid you not, the O2 Arena literally exploded. It may have been loud on television, but his reaction was nigh-on thunderous in our area. Also, he didn't botch his promo. Definitely a feel-good moment, whatever fans may feel about Hogan himself.
Batista and Dolph Ziggler's match was actually really enjoyable. Ziggler's reaction was not as big as it was on Raw but he still had the crowd in the palm of his hand. Batista played the heel brilliantly and worked the crowd well. He actually got "You can't wrestle!" chants but I don't know if that will be heard on television. Quite a long match but I really liked it personally. The fact that Ziggler appeared twice in 2 days and competed in good matches sums the guy up accurately – he is a workhorse. I hope they begin to realize his potential and feature him more. He is a big hit overseas.
The Funkadactyls and Eva Marie/Nikki Bella bout had as much interest as watching paint dry. Naomi/Cameron appearing twice in the same night hindered their momentum. Summer Rae got a fairly good reaction though – although I don't understand her Special Referee role. Hopefully they progress her feud with Layla/Fandango over more Total Divas hype.
Bo Dallas' debut was interesting. I am personally hopeful for Dallas' role on television – he got a mixed reaction. His work was good, but his role is ambiguous. I can't figure whether they're going for a face or a heel for him – my guess is a heel with face tendencies. Much like Kurt Angle was in 1999. For what it's worth, his debut may not have been fantastic, but his ring work and subsequent character traits were better than I had hoped. A bit more clarity on his persona will be needed though.
As expected, and much like on Raw, The Wyatt Family got a tremendous reaction. Bray is an absolute genius on the microphone.
The Sheamus-Del Rio match was actually decent and enjoyable. I'm not sure if this will be shown on television but at one point, Sheamus fell out of the ring and it appeared he botched his fall. He banged his head/shoulder quite hard on the floor. Sheamus punched the mat in what appeared to be a moment of frustration, and I don't know whether he was hurt legitimately. He was favoring his head for a while but after the match he looked to be okay. The crowd cheered him afterwards as he walked to the back.
Vickie Guerrero got the biggest heel reaction of the night by far. Not the kind of "We aren't supposed to like you" heat, but the "Get off our show" heat. Having said that, the segment she was involved with Adam Rose in was enjoyable. Rose got another fantastic reaction and played the part great. As said earlier, I foresee great things for Adam Rose in the near future.
John Cena still got a mixed reaction, but was more favored by the SmackDown crowd than the Raw crowd. The Usos' match with Harper & Rowan was very back-and-forth, one which I thoroughly enjoyed. It may have had some awkward spots but on the whole it was a good way to end the show, I felt.
In the untelevised portion that followed, Cena and Wyatt had a WrestleMania rematch. Cena mentioned that the crowd had been pretty quiet all night (which was true) and teased WrestleMania coming to the UK which drew a massive reaction. Wyatt and Cena's dark match was nothing compared to their previous ones, but served its purpose with Cena winning clean and the majority of fans going home happy. A little bit disappointing to say the very least but Wyatt showed more of a heel presence in the dark match than ever. Personally, I feel their feud has peaked and it is approaching that time when more fans will begin to lose interest. Several have lost interest already, but WWE need to capitalize and not hinder any heat the feud has left. Payback should be the blow-off to their feud – if they drag it on longer, it may have the worst kind of effect on Wyatt.
On the whole, a very enjoyable two days with significantly more good than bad. Raw was easily the better show but SmackDown had a lot of entertaining qualities.
What do you think? Comment below with your thoughts, opinions, feedback and anything else that was raised.