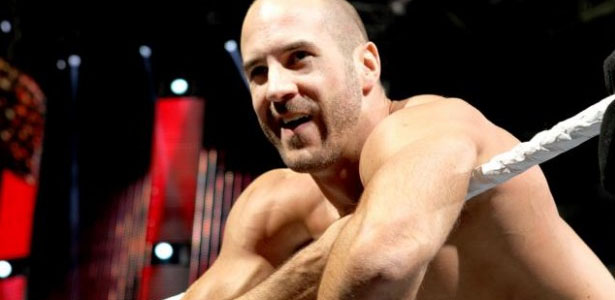 Every so often an in-ring competitor comes along who has "It" – unquestionable wrestling skill, textbook technique yet loose and fluid in motion, remarkable physical attributes, infectious charisma, wit and charm, plus a little extra something that defies proper explanation.
Swiss grappler Cesaro may very well have "It".
A towering Superstar as nimble with a microphone as he is with his 6'5" frame, his opponents learn quickly he can grind out a match on the mat with submission maneuvers and daze them with a Swiss-knife-like assortment of sharp strikes or aerial attacks, and let's not forget the awe-inspiring Giant Swing.
Literally adding insult to injury, Cesaro then mentally grounds opposition with articulate verbal thrashings – which he used to do fluently in five different languages. These days he places his hand over his heart before shouting in loud clear voice, "We the people!"
Like follow Superstars Daniel Bryan and CM Punk before him, Antonio Cesaro is an alumnus of independent wrestling promotion Ring of Honor. Teamed with Chris Hero as The Kings of Wrestling, the duo were a dominant pair.
In WWE Cesaro is paired with former World Heavyweight Champion Jack Swagger, together known as The Real Americans. Their success rate has been more seeing stars than earning stripes. Actually, Cesaro hasn't been quite as colorful since reigning as United States Champion for 239 days.
Cesaro now has opportunity to return to singles glory yet go a major step further.  As 1 of 6 participants (John Cena, Sheamus, Christian, Bryan, and champion Randy Orton) in the upcoming Elimination Chamber match, he likely will not be competing there to boast his use of language arts. His goal may not even be to validate a ring prowess he conditioned pre-WWE.
Following the highly-publicized, yet still mysterious departure of Punk, and with so many eyes fixated on Bryan, Cesaro could be out to prove he belongs in the "face of the WWE" conversation.
More believably though, Cesaro would be competing for an opportunity to wear "It" – the WWE World Heavyweight title – around his waist, a little extra something with no need for explanation.
What do you think? Comment below with your thoughts, opinions, feedback and anything else that was raised.
About Joe Walker: Joe Walker is an award-winning columnist, celebrity entertainment and news journalist, editor, and artist biographer. Currently a senior writer for Soul Train and staff writer for Muskegon Tribune Newspaper, Walker's acclaimed work has been published thousands of times regionally, nationally, internationally, and online. Follow him on Twitter @mrjoewalker.